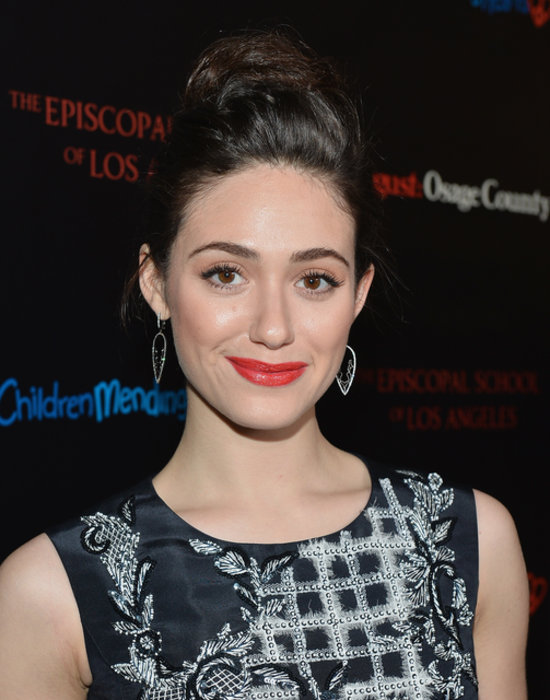 Whether it's a colorful cat eye or a fairy-tale hair accessory, we can always count on Emmy Rossum to show us how a beauty girl does the red carpet. So we're not surprised to see that her porcelain complexion has helped her land a spokesmodel gig for luxury skin care brand Restorsea. And the beauty matchup has a less than typical story. "I was gifted some Restorsea products in a gift bag. I was amazed and I switched my whole skin care routine to Restorsea," she tells us. "I had my agent approach the brand about being an ambassador for them, because I organically loved the product so much." We caught up with the new face of Restorsea to learn her wealth of beauty secrets.
1. Eye cream is a multiuse product.
Her favorite product is the
Revitalizing Eye Cream
($85). "I always make sure I put on eye cream," Emmy says. "I have it next to my bed and it doubles as cuticle cream or elbow moisturizer or lip balm or whatever. I even put it over makeup sometimes. If your under-eye [area] starts to get too dry from wearing makeup for so long and you start to get those crease lines, you can even freshen it up by putting a little bit of eye cream on and rework the makeup. It works really well."
2. Antiaging is about being preventative. "My thing is preventative and not so much about reversing the signs of aging. I'm all about spending on a day cream and an eye cream now, so that I don't have to do needles and cut my face open later," Emmy says. "If you make sure your collagen is in check in your 20s and 30s, then you'll never have to worry about sticking lots of needles in your forehead."
3. Don't pop your pimples. "Popping is a huge no-no," Emmy exclaims. "You can do serious damage to your face — if you don't get it all out you can get an infection. I remember I was shooting The Day After Tomorrow and it was my first studio movie, and I was very nervous. A couple days before my first day, I felt this pain between my eyebrows and I could tell I was getting one of those cystic pimples. As we got closer and closer to the first day of shooting it was getting worse. So the night before, I decided I was going to pop it and it will be fine. Of course, I couldn't pop it and squeezing it only made it bigger, so when I got there, Jake Gyllenhaal called me three-eyes."
See more of Emmy's beauty tips when you keep reading!