Celebrities With Dad Tattoos
Can You Guess Which Stars Have a Dad Tattoo?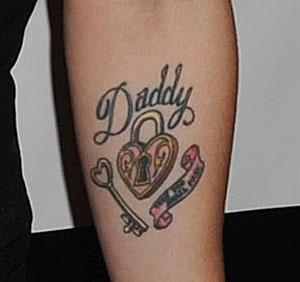 Father's Day is June 20, and to mark the event, let's look at tattoos. There are a few stars who have paid tribute to their own fathers by getting inked. Call it the ultimate greeting card to pops.

I've done some research on the topic, and uncovered some interesting facts about celebrities and their dad tattoos. For instance, whose "Daddy" tattoo, pictured here on her left forearm, is just as colorful as she? And do you know who has a "Daddy" tattoo that's changed a lot over the years? You're about to find out.