While we love award season for the updos and glamorous makeup, we're pretty partial to the red carpet manicures. Pastels, jewel tones, and a bevy of nail art designs are always good for some eye candy — and some serious DIY [1] inspiration. We'll be rounding up the best fingertip moments from all of the award shows, from the Golden Globes to the Oscars. Stand by for envy-inducing hands!
Lupita Nyong'o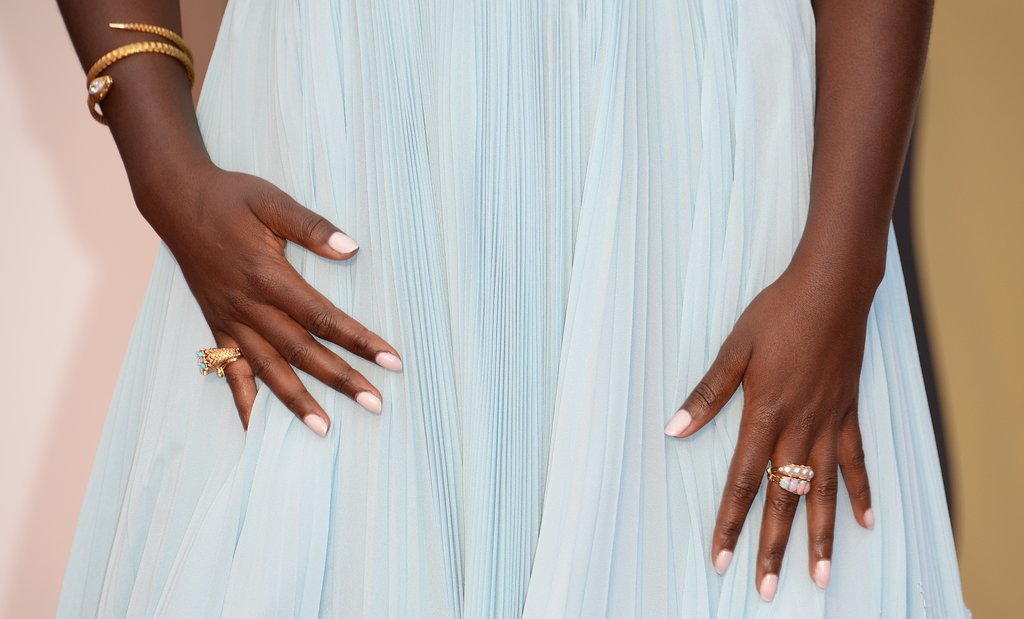 It was an opaque pale pink for the first-time Oscar nominee.
Julia Roberts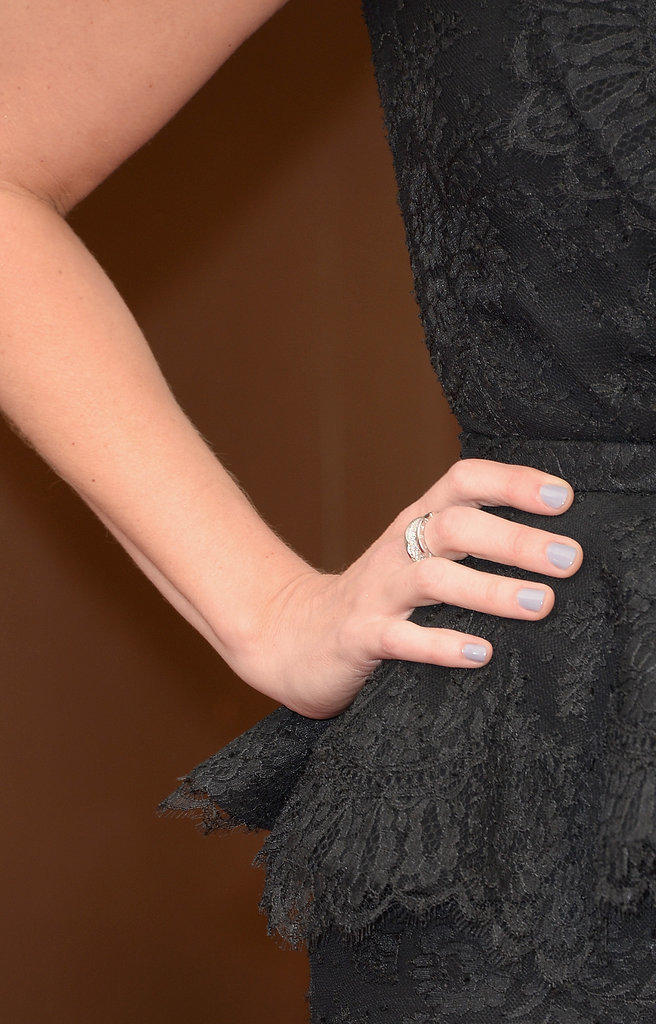 For the Oscars, Lisa Jachno of labnails [2] did the actress's digits in Lancome Vernis in Love lacquer in Gris Angora [3] ($15), a lovely light gray hue.
Jennifer Lawrence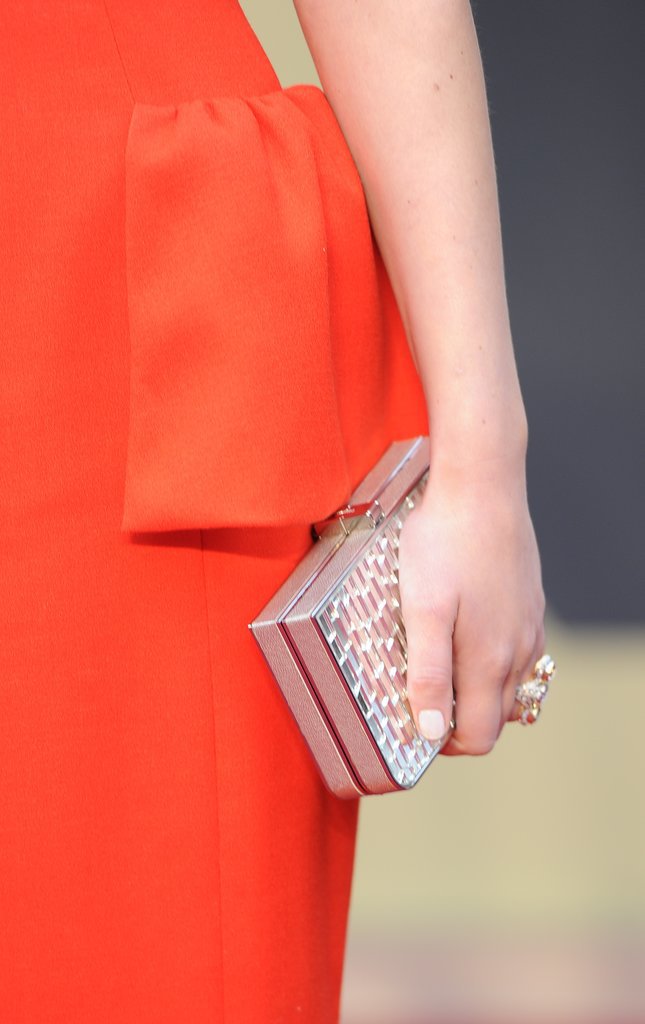 The Oscar nominee went short and sweet with a rounded square tip.
Anna Kendrick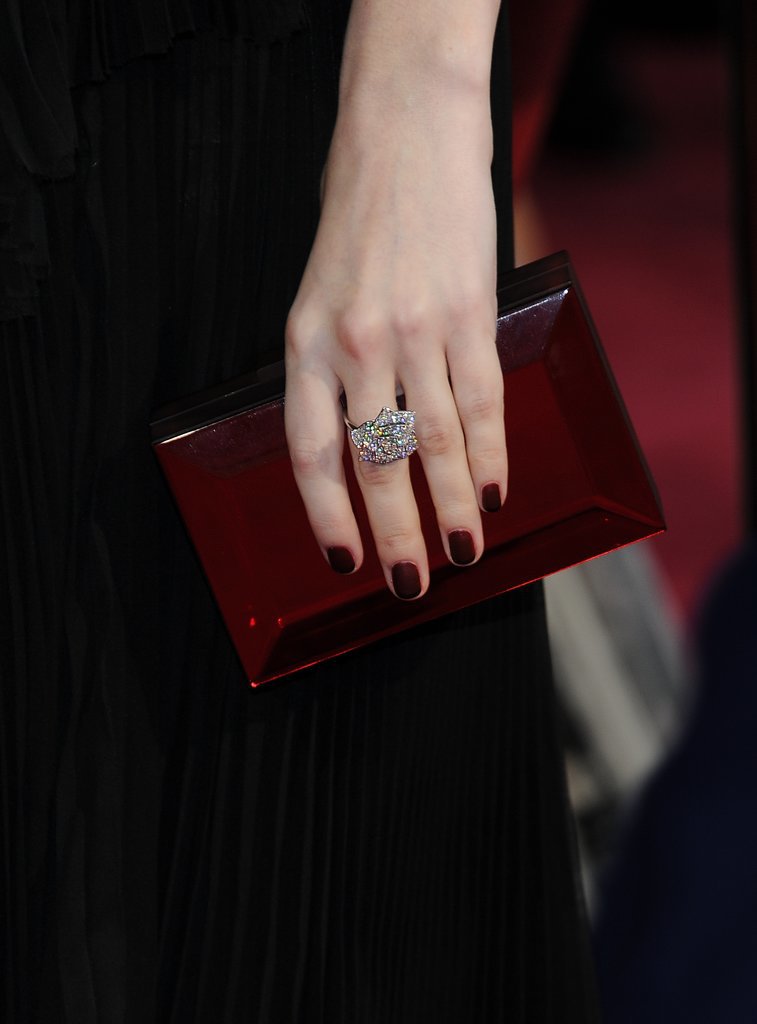 The Oscar presenter chose a deep, vampy red that matched her lip color.
Julie Delpy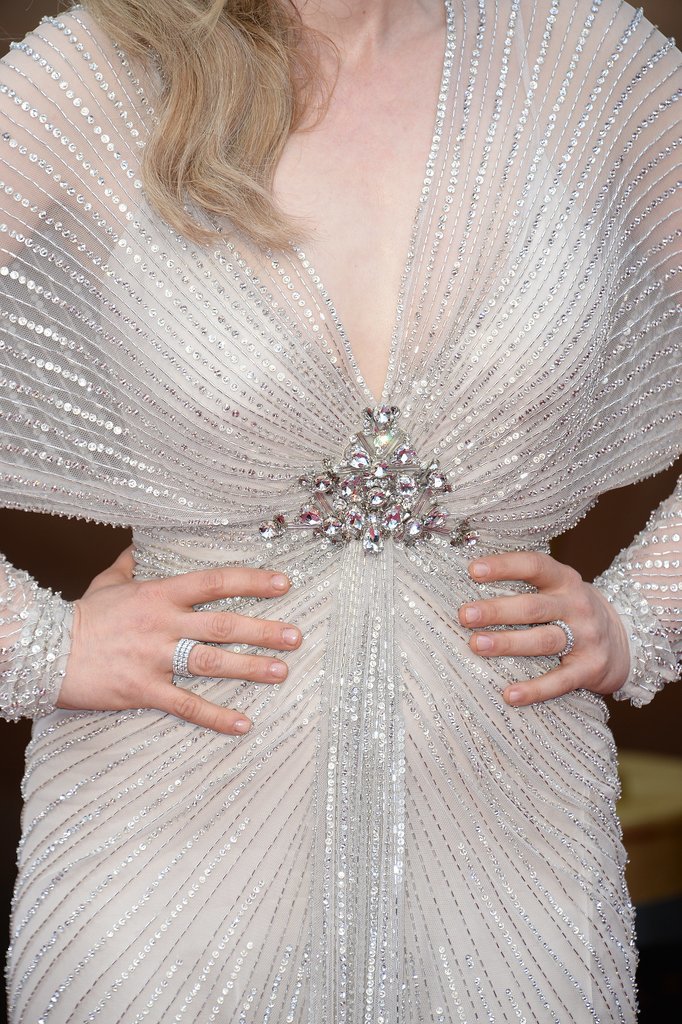 The actress picked pale pink to complement her sparkling Jenny Packham [4] dress at the Oscars.
Naomi Watts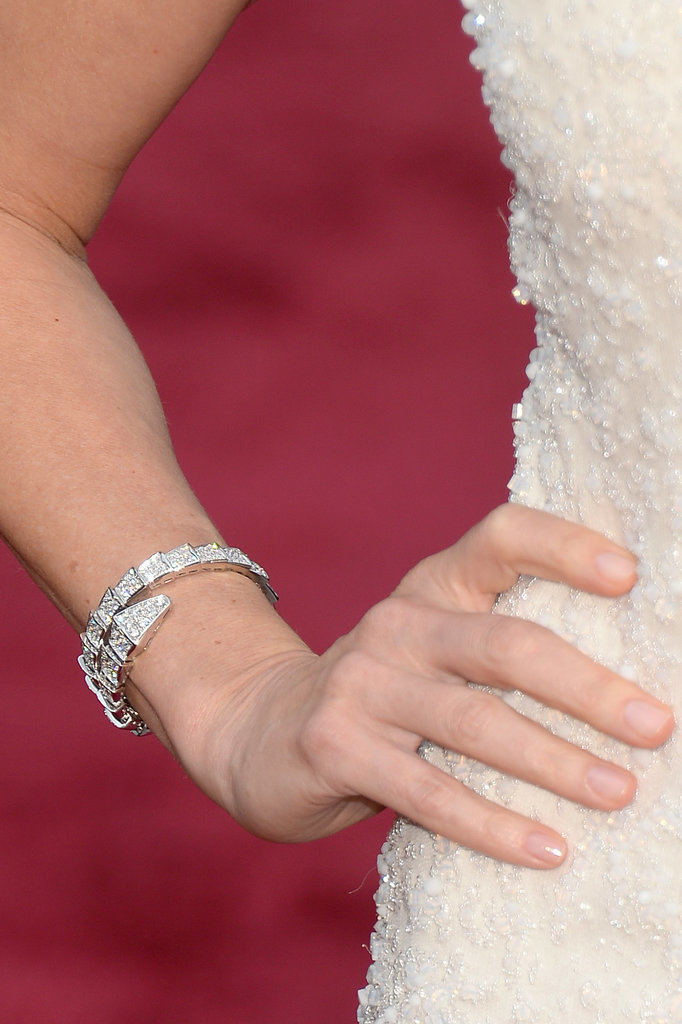 The Oscar presenter showed off clear lacquer on her short and perfectly polished nails.
Lady Gaga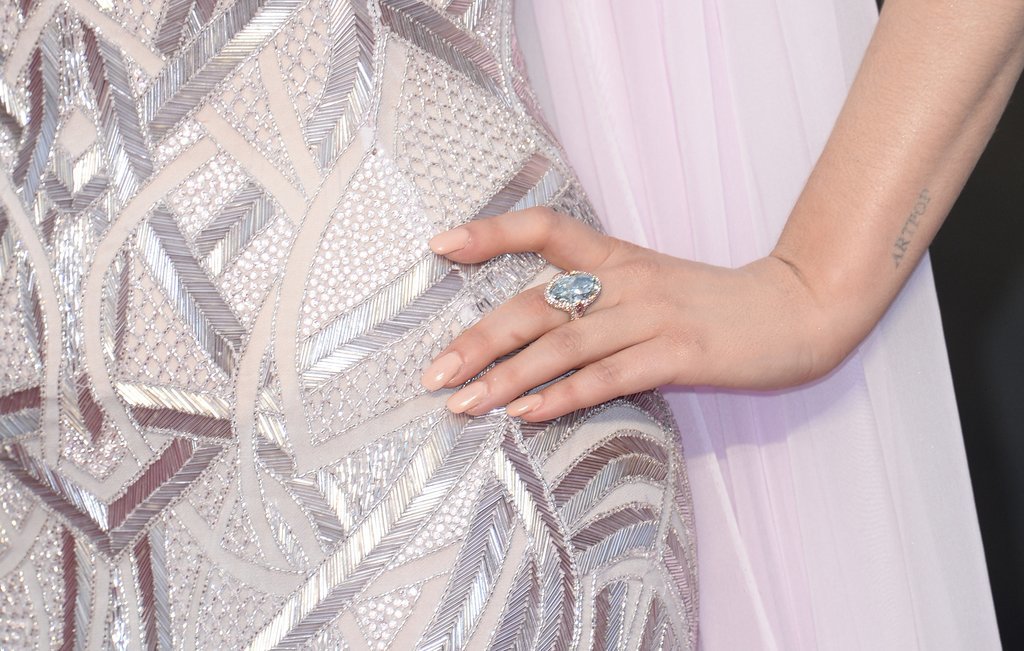 Going against her wild style, the singer picked a long peach nail for the Oscars.
Rita Ora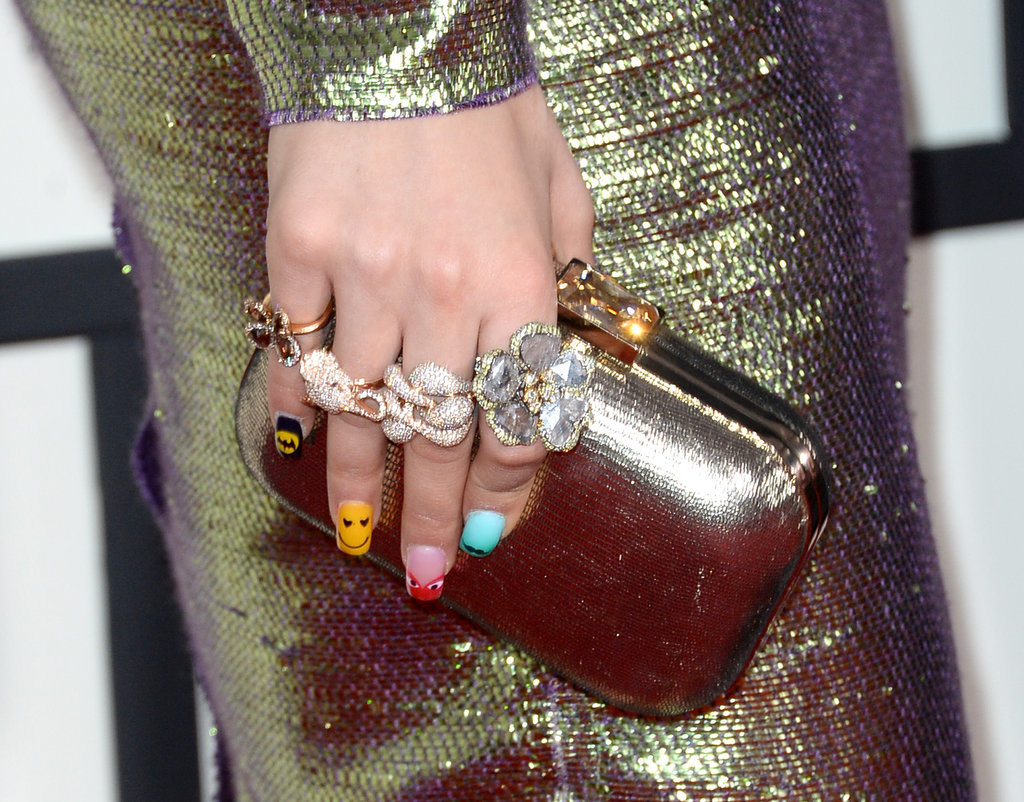 Smile! Rita Ora brought out the fun side of nail art for the Grammys.
Madonna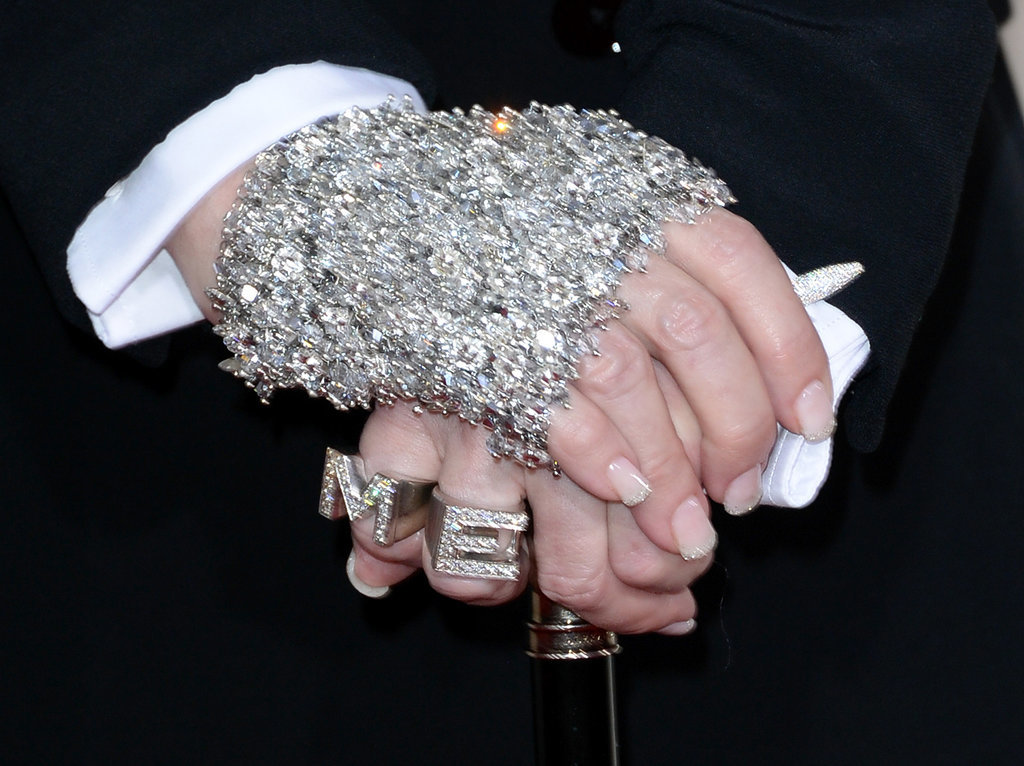 At the Grammys, a close-up of Madonna [5]'s hands shows lots of bling from her gloves to her rings and her glittery french manicure [6].
Kelly Osbourne
Kelly Osbourne may have the best manicure we have seen so far this award season with this black polish topped with a replica of a Grammy award.
Sara Bareilles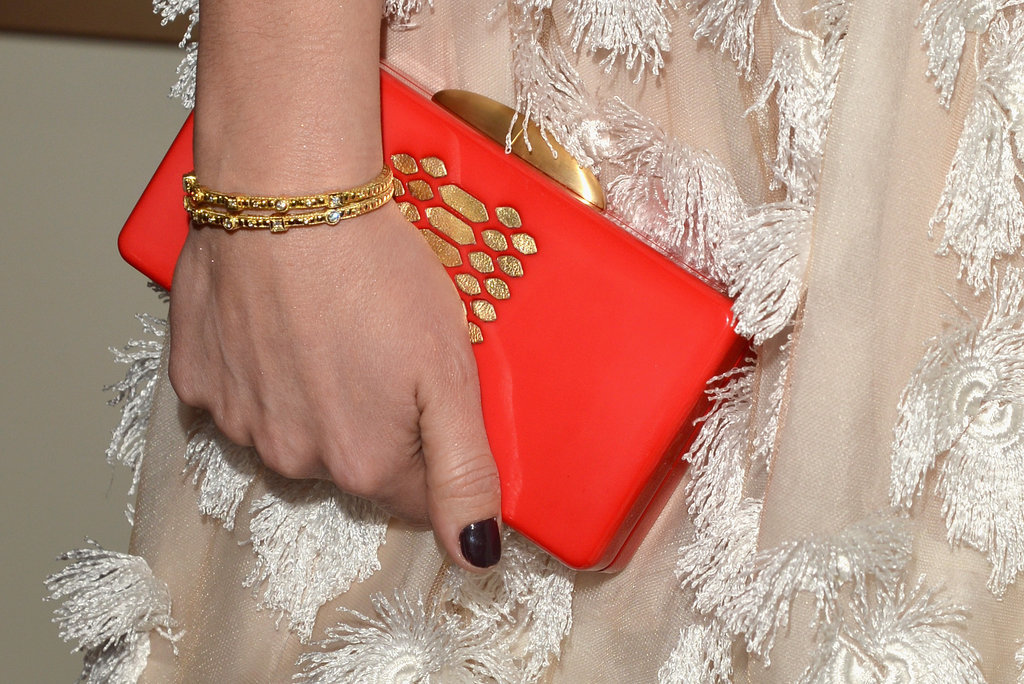 Sara Bareilles went with a black nail polish to add a moody feeling to her otherwise bright ensemble at the Grammy Awards.
Paris Hilton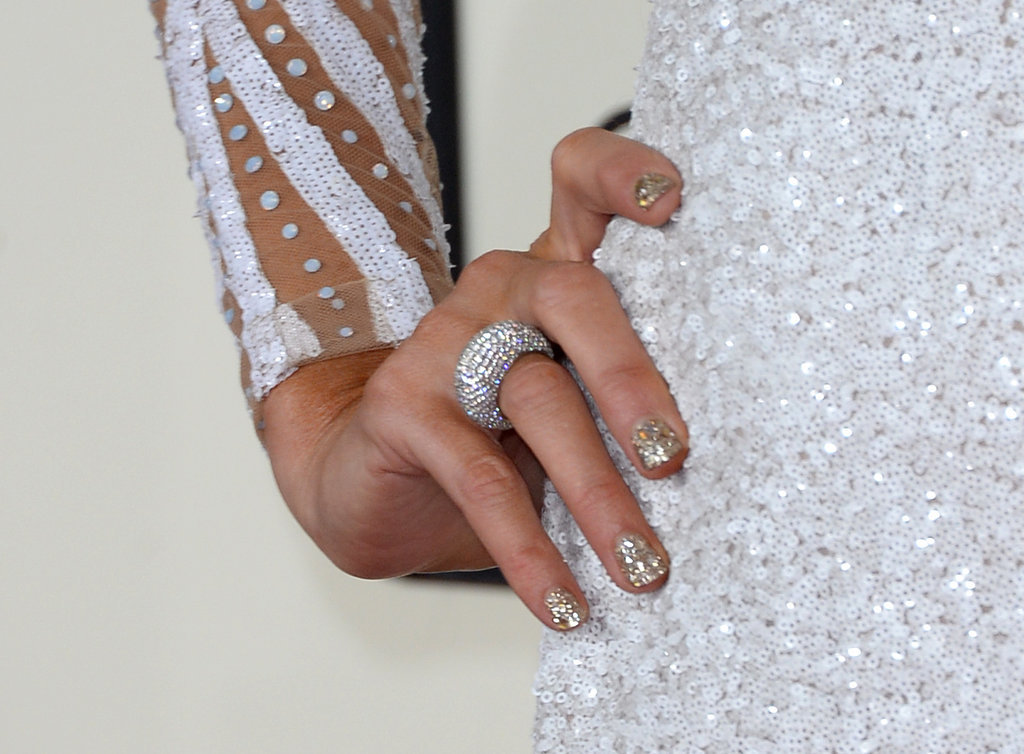 The glimmer of Paris Hilton [7]'s Grammy Awards ensemble didn't stop at her dress — her nails also had a silvery shine.
Skylar Grey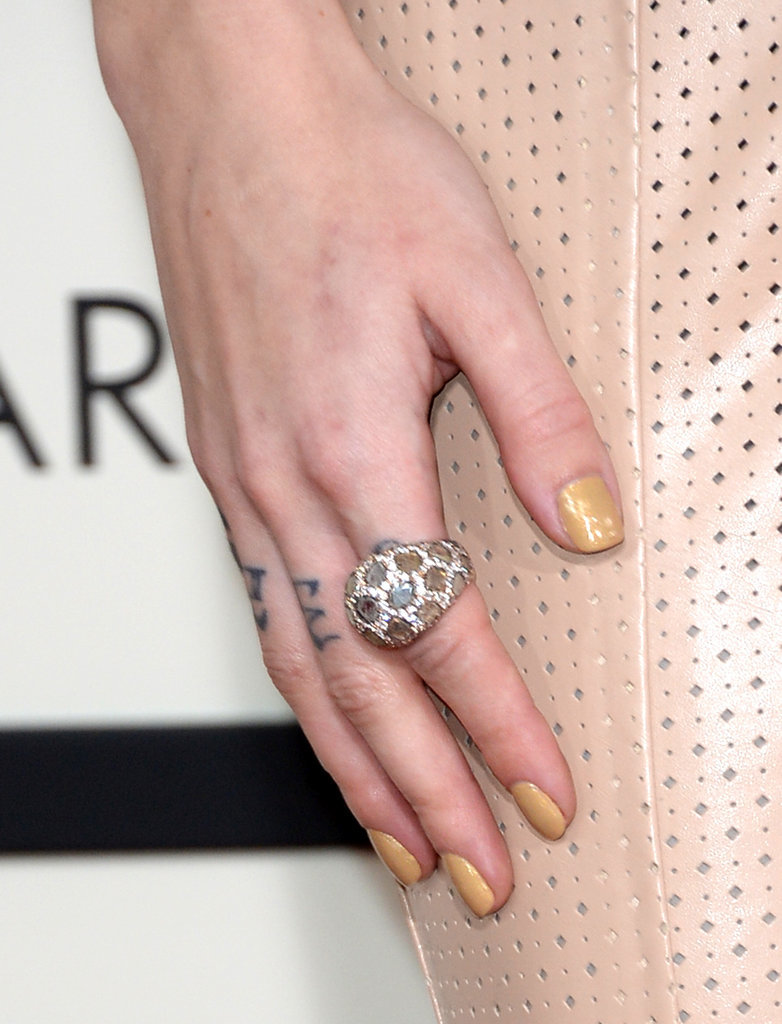 Skylar Grey went with a khaki manicure to match her tan leather dress on the Grammys red carpet.
Cyndi Lauper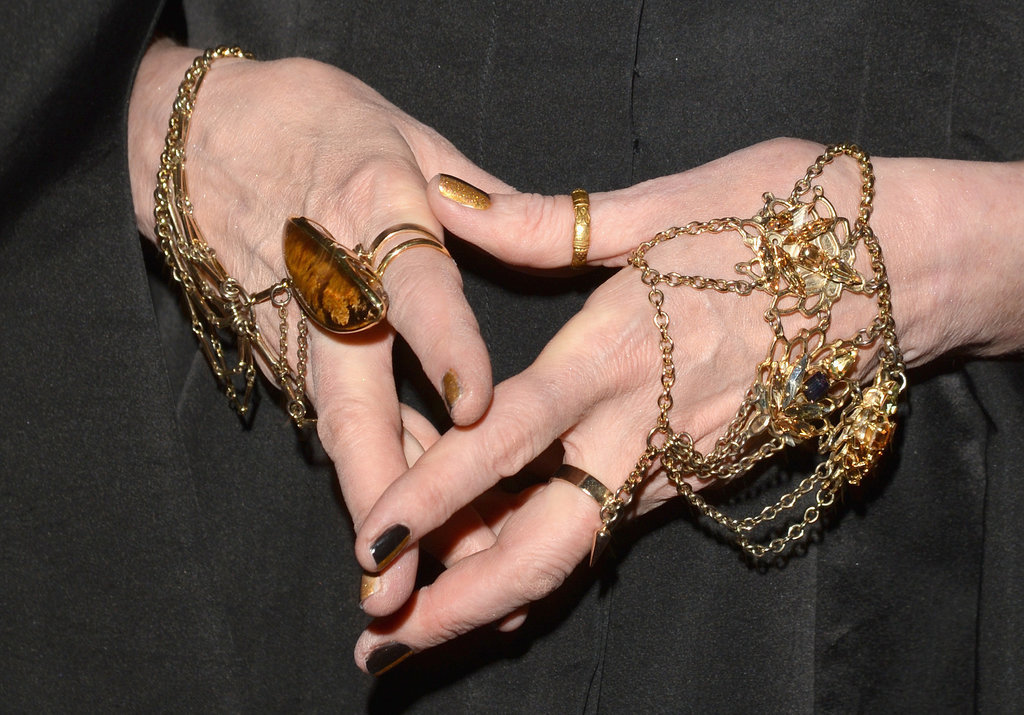 It was gold jewelry and a gilded, mirrored manicure for Cyndi Lauper at the Grammys.
Bonnie McKee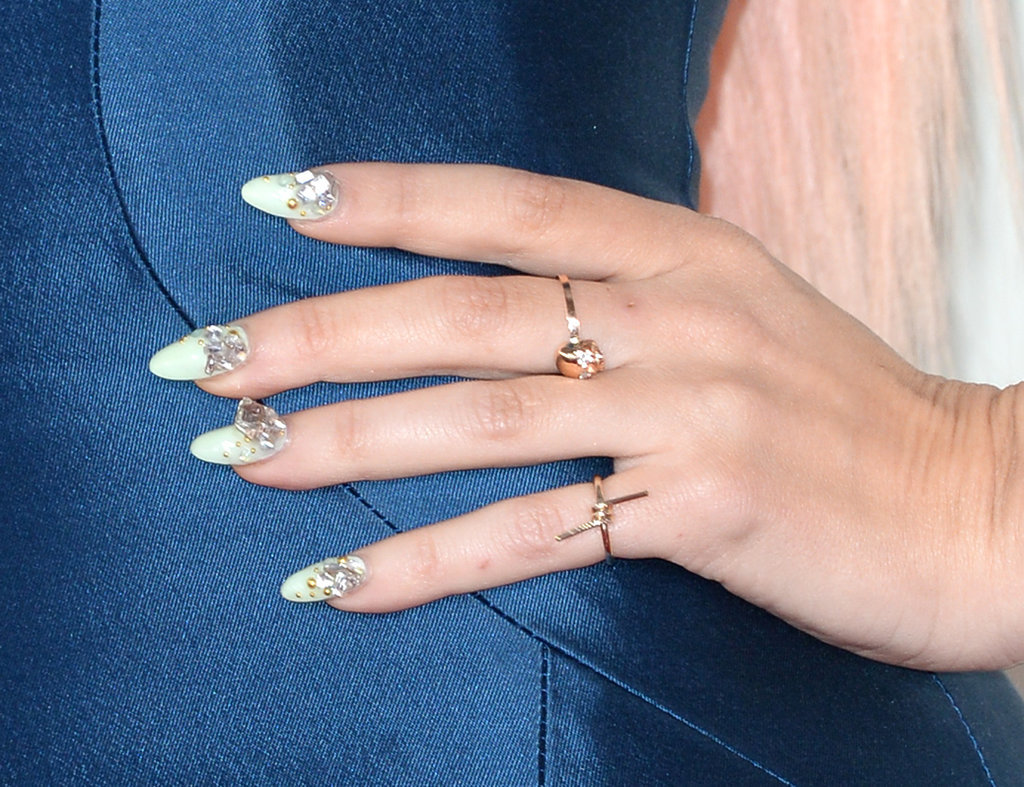 In an embellished take on the half-moon manicure, Bonnie McKee added stones all around her cuticles for the Grammys.
Rocsi Diaz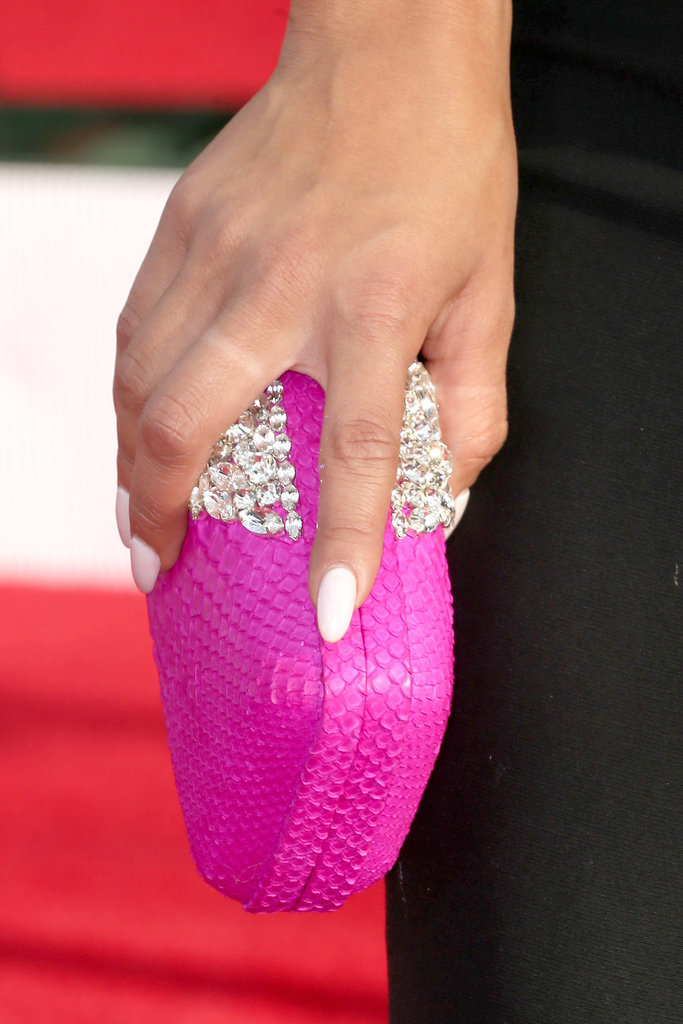 This white-out nail polish really popped against Rocsi Diaz's hot pink clutch on the SAG Awards red carpet.
Hannah Simone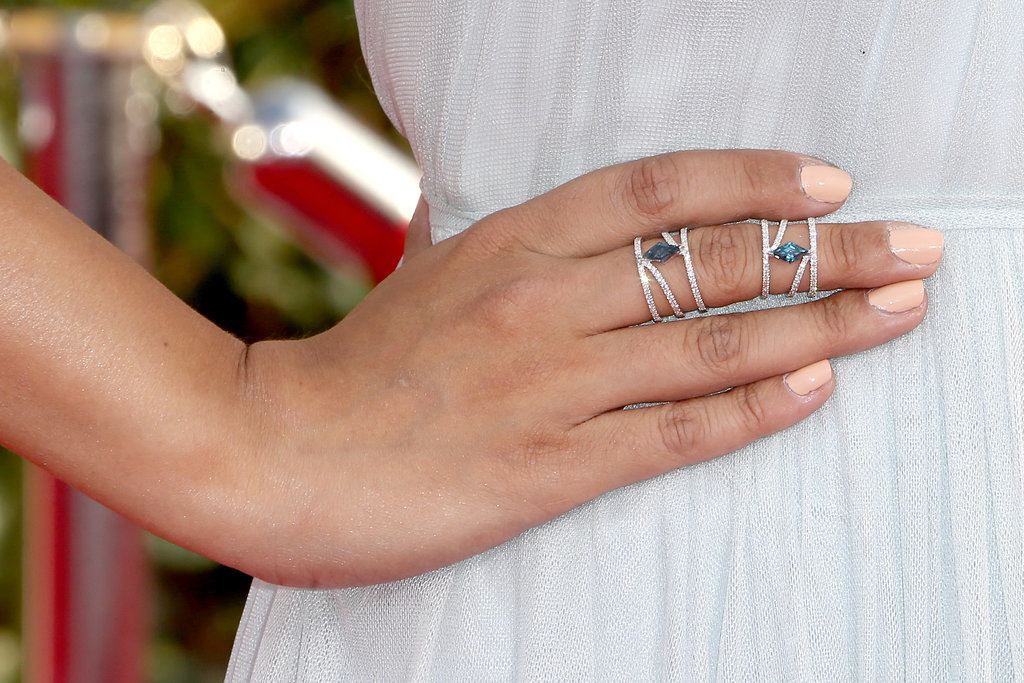 While her dress was a pale blue, Hannah Simone went with a pastel orange shade on her nails at the SAG Awards.
Anna Gunn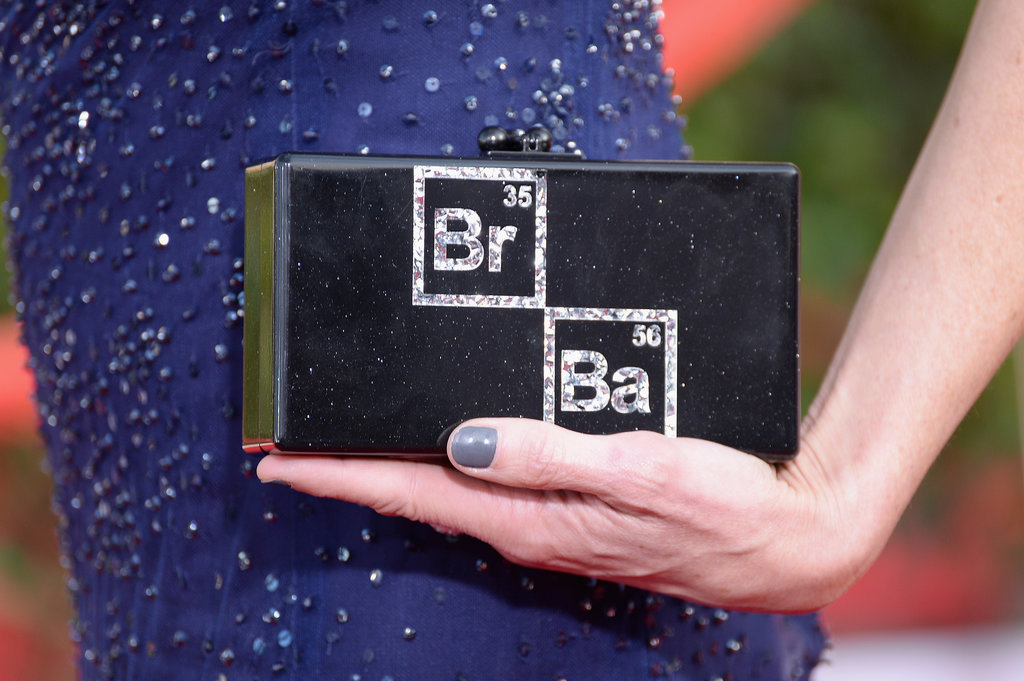 Anna Gunn showed of her team spirit at the SAGS with her Breaking Bad clutch, and we love her gray manicure, too!
Stuart Brazell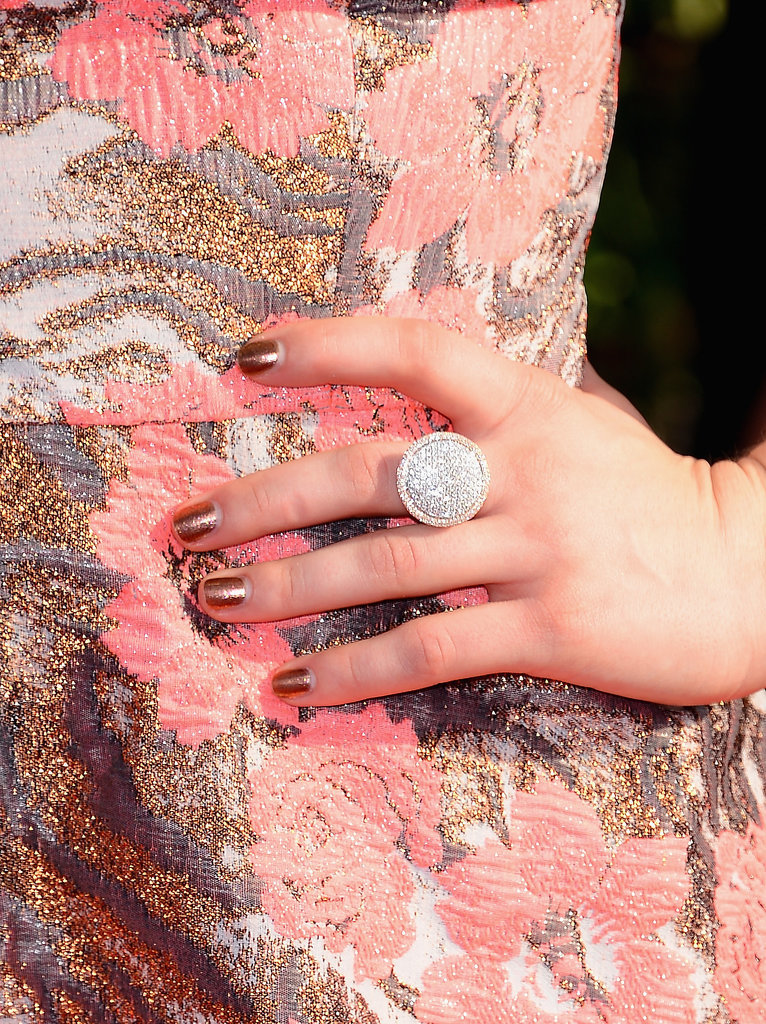 On the SAG Awards red carpet, Stuart Brazell picked a gilded metallic polish that picked up the bronze in her dress.
Renee Bargh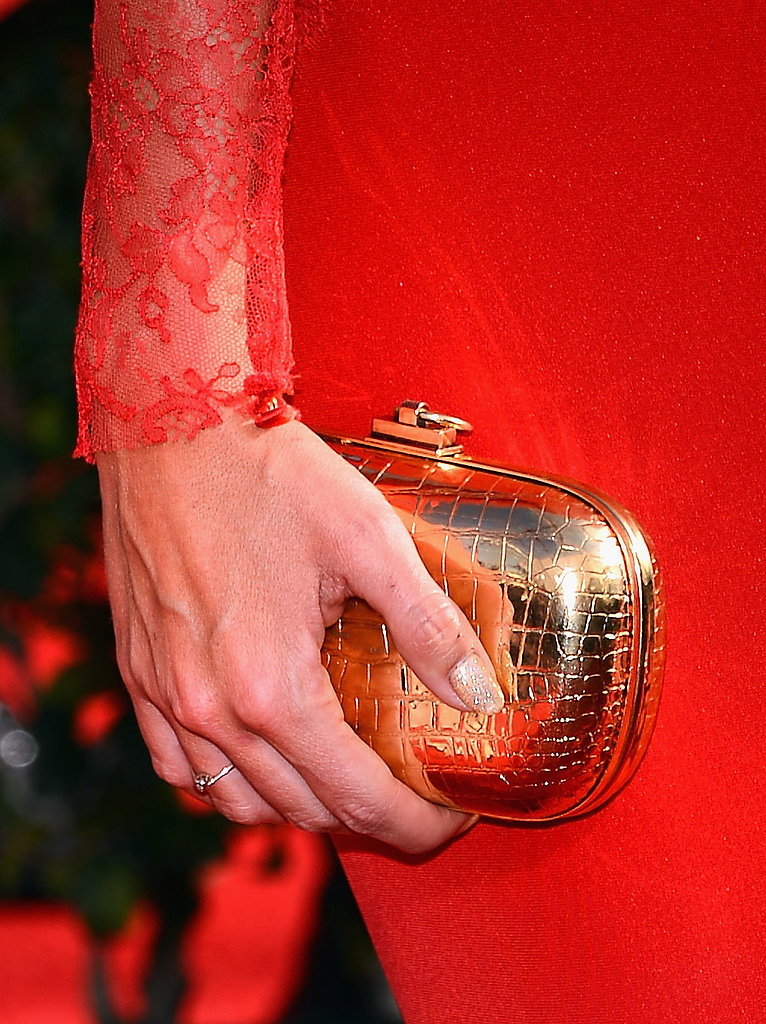 Matching your clutch to your nails isn't a bad idea, and Renee Bargh had a perfectly gold pair on the SAGs red carpet.
Kelly Osbourne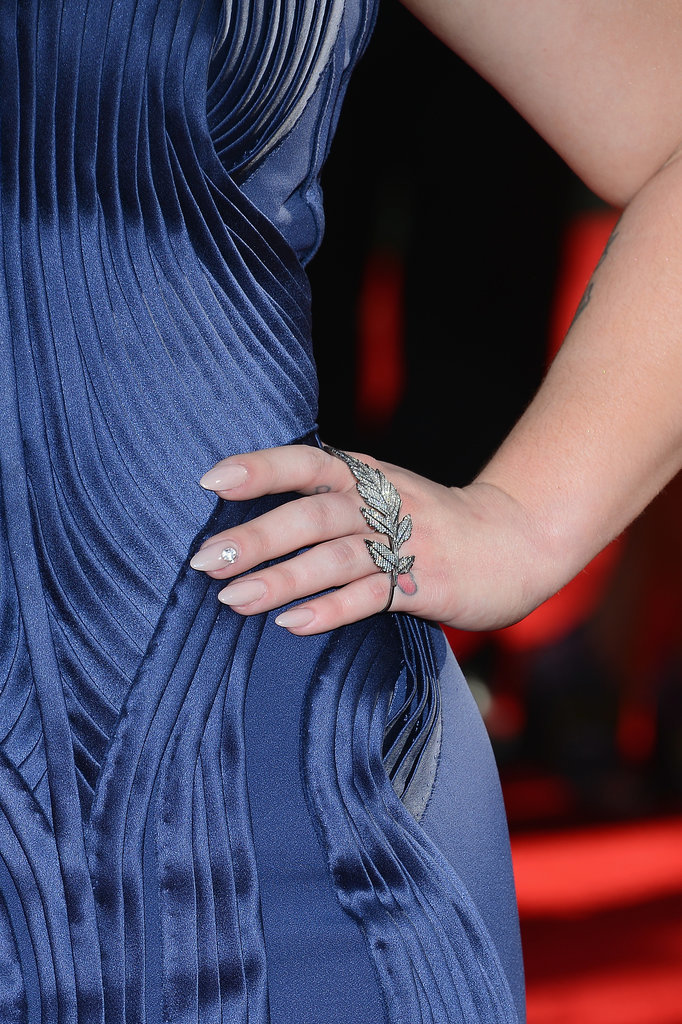 We have come to expect amazing manicures from Kelly Osbourne, and she didn't disappoint on the SAG Awards red carpet with a bedazzled accent nail.
Lupita Nyong'o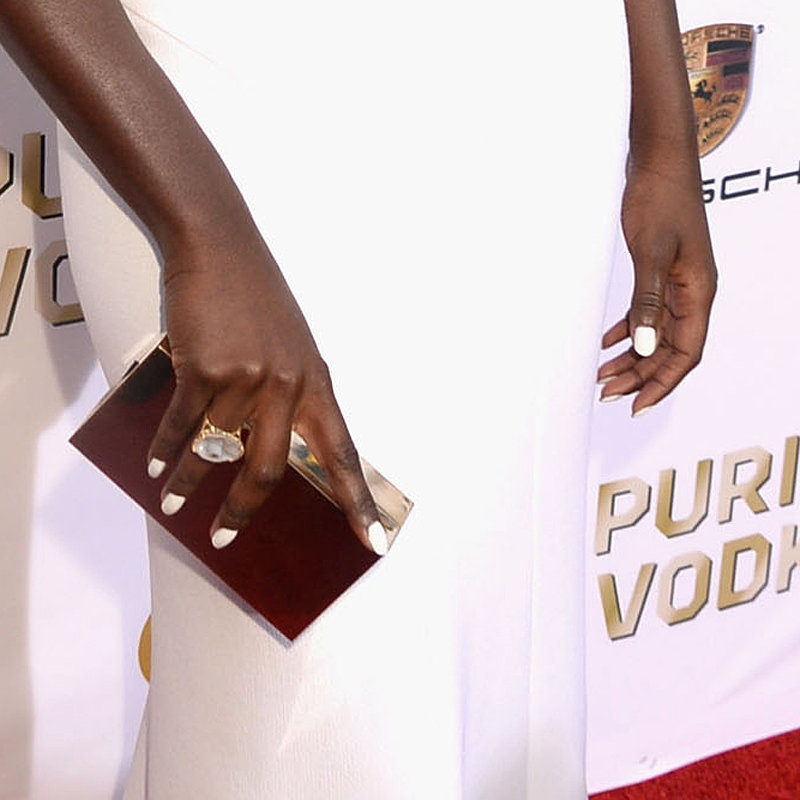 White dress, white nails. We can't get enough of Lupita's matching color scheme at the Critics' Choice Awards.
Nia Long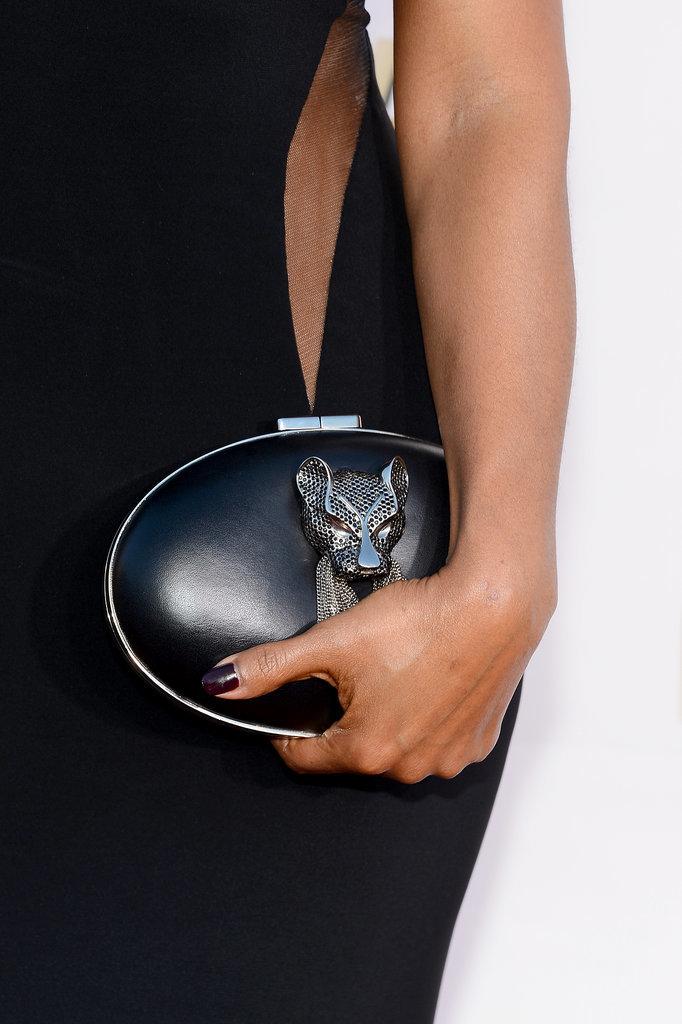 At first glance you might think Nia Long's nail polish matches her black dress from the Critic's Choice red carpet, but the closeup shows the shade is actually a vampy purple hue.
Elisabeth Rohm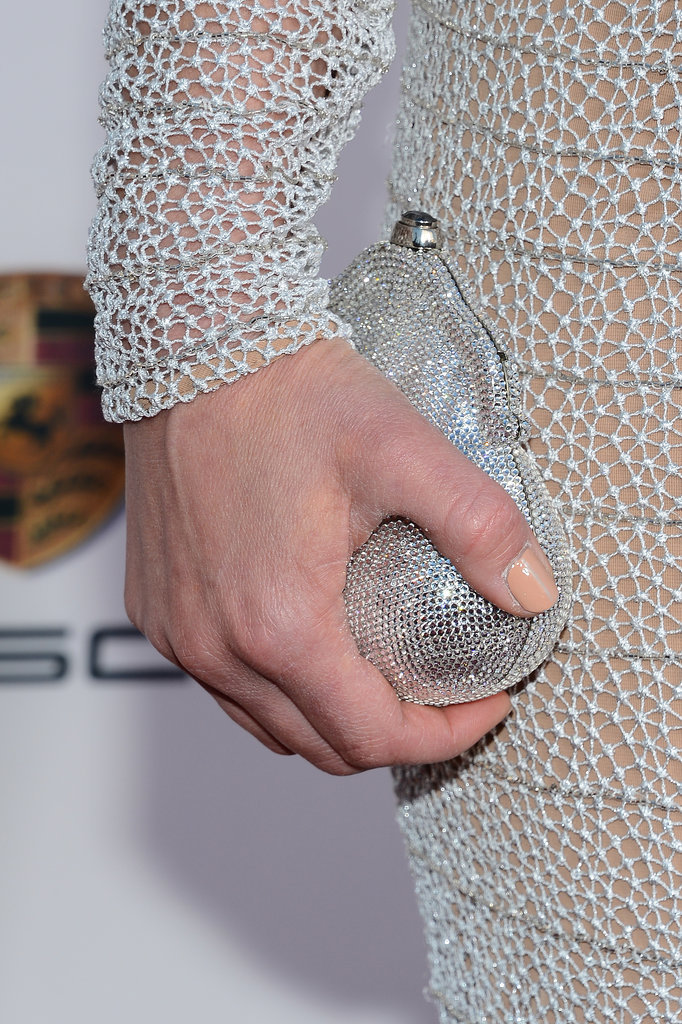 The theme for Elisabeth Rohm's Critics' Choice beauty look was retro. Her nude manicure had a simple bare line down the middle.
Aisha Tyler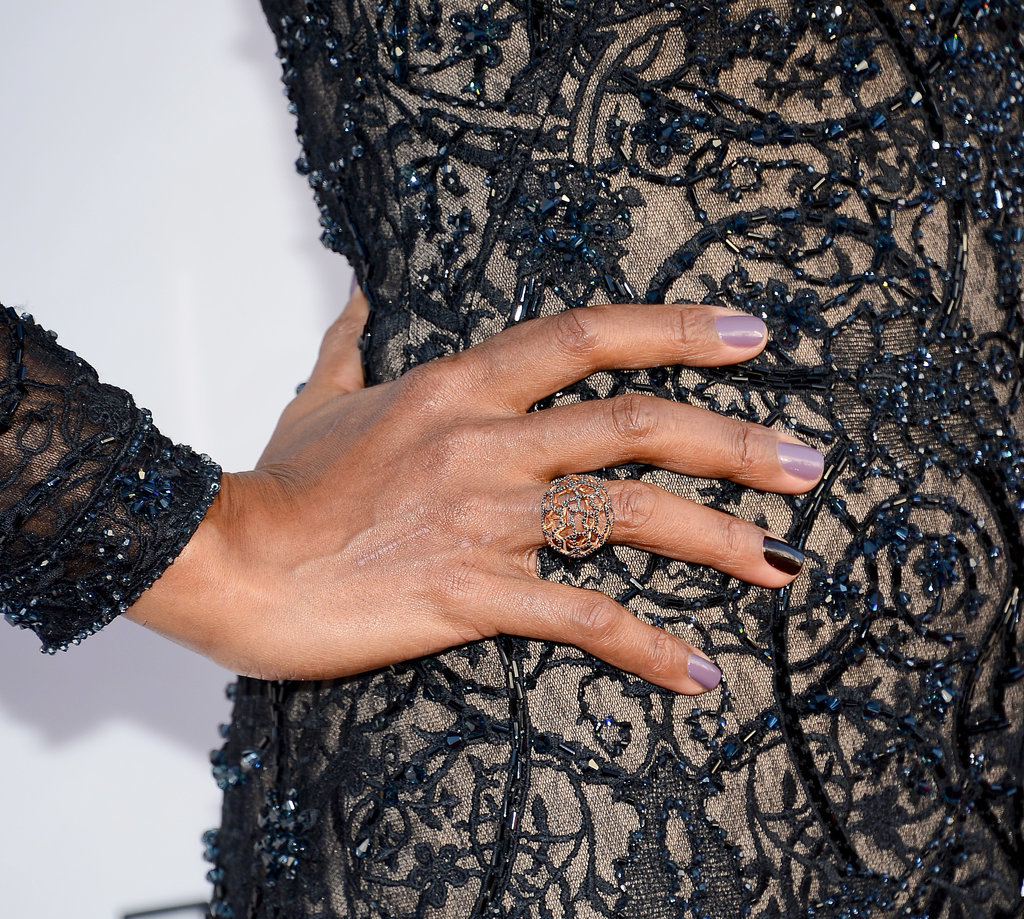 At the Critics' Choice Awards, Aisha Tyler went with a two-toned manicure, mixing lavender and black shades.
Margot Robbie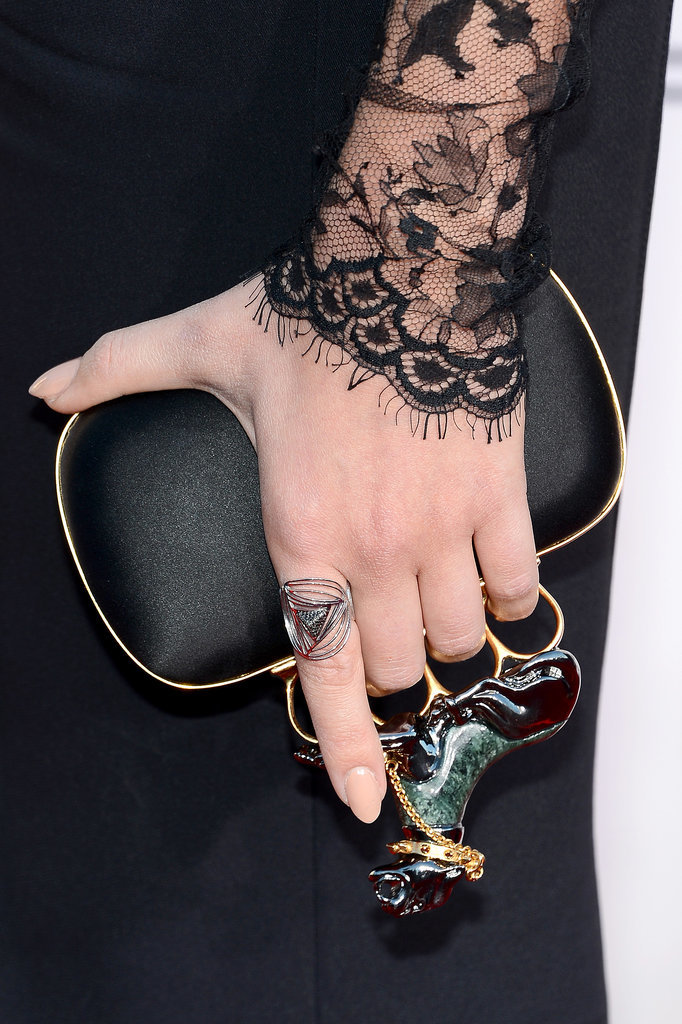 Margot Robbie was fully prepared for her handbag closeups on the Critics' Choice red carpet with her nude almond-shaped manicure.
Adèle Exarchopoulos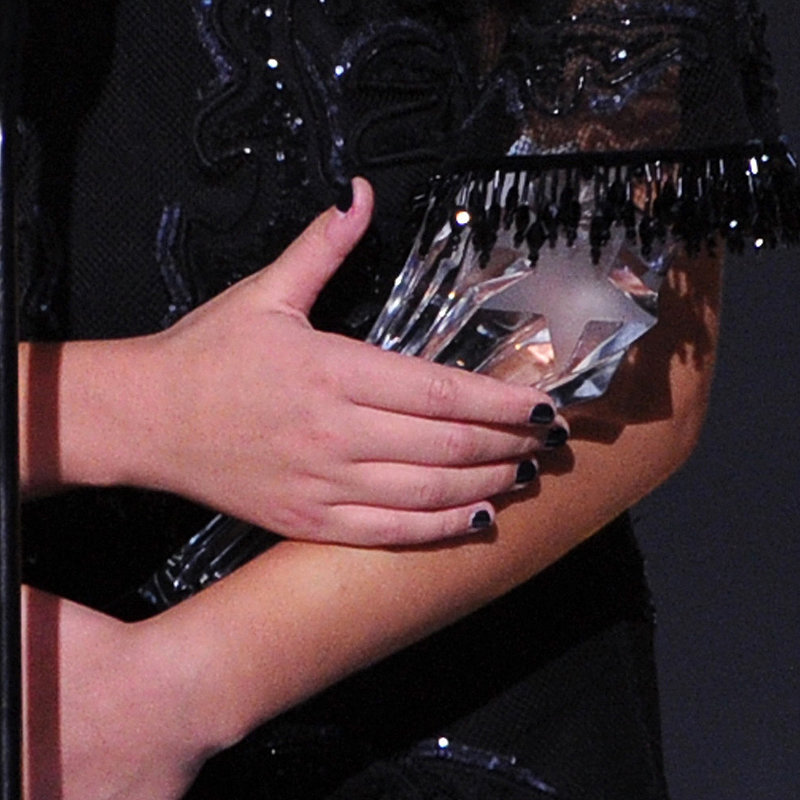 Adèle Exarchopoulos wore an inky black shade to accept her Critics' Choice Award.
Kerry Washington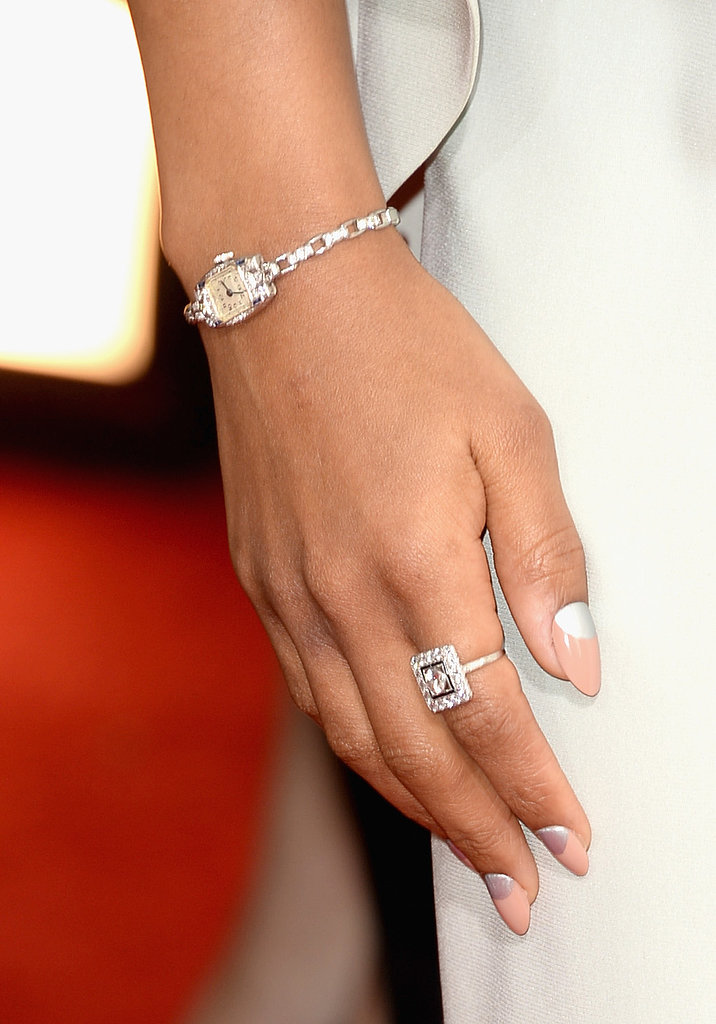 A peach and silver manicure adorned the nails of Kerry Washinton at the Golden Globe Awards.
Kaley Cuoco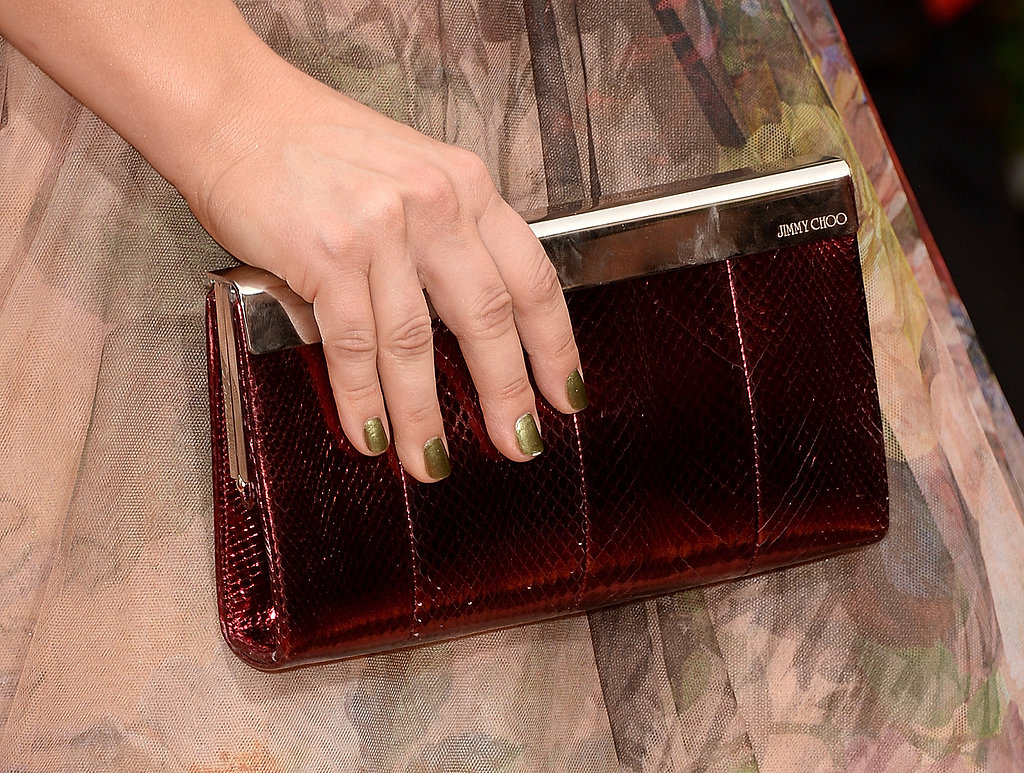 Emerald green was the color of Kaley Cuoco's manicure at the Golden Globe Awards.
Zooey Deschanel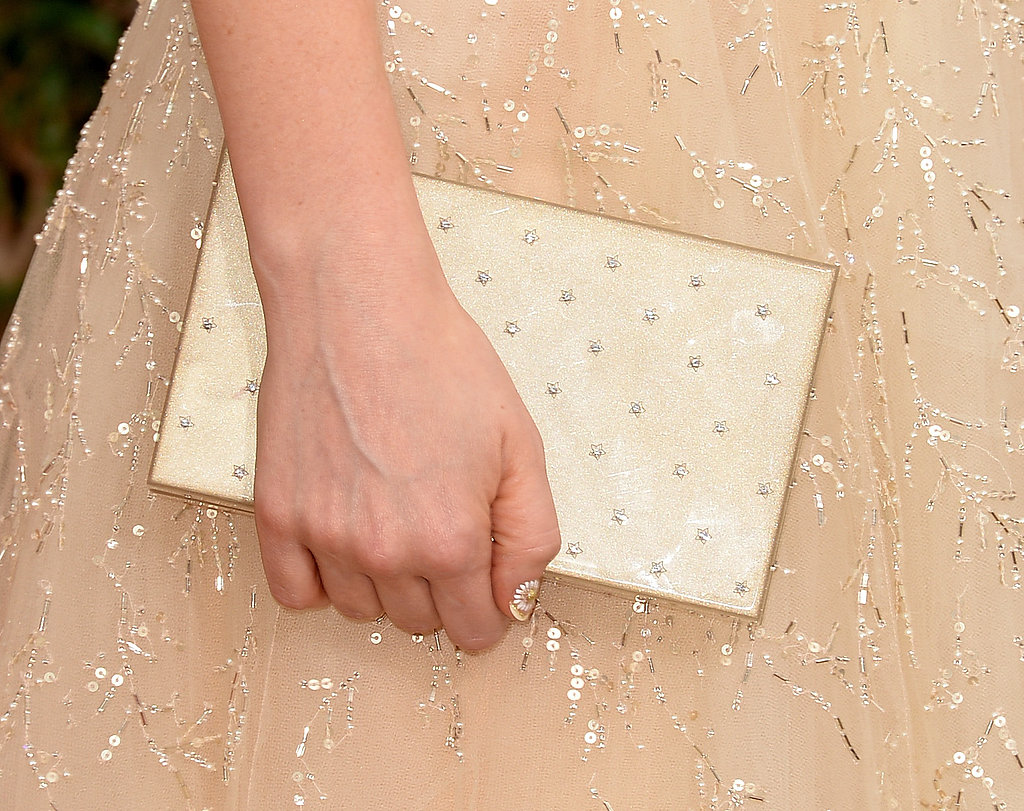 Always the nail art lady to watch, Zooey Deschanel [8] painted a flower motif on her nails using L'Oreal Paris Colour Riche Nail Versailles Romance in Crème Puffs, L'Oreal Paris Magic Top Coat Collection in True Gold, and L'Oreal Paris Colour RIche Nail in I Will!
Monica Potter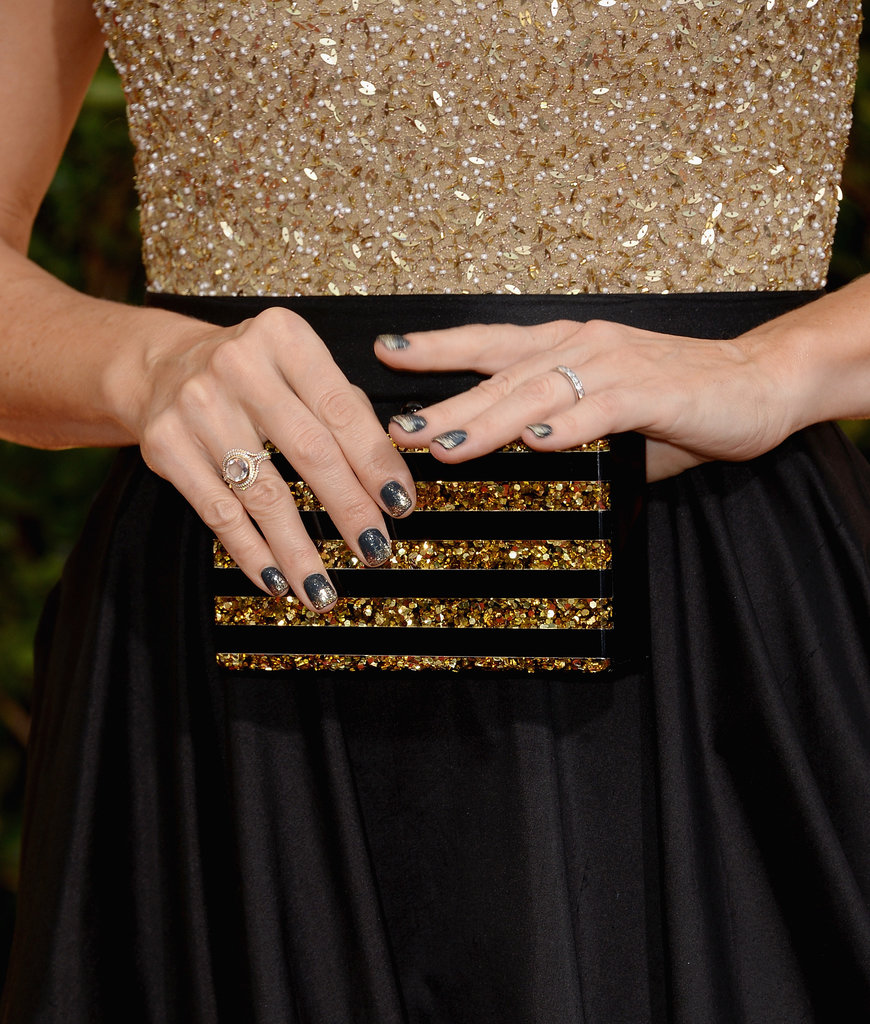 A sparkling, ombré manicure looked darling on Monica Potter at the Golden Globes.
Reese Witherspoon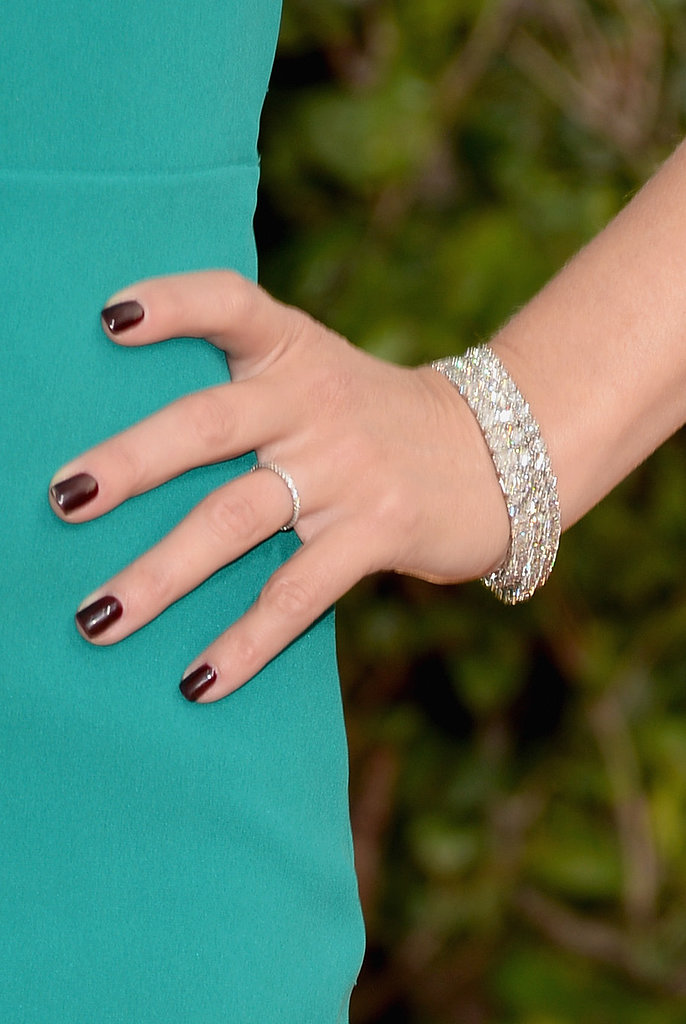 Reese Witherspoon [9]'s maroon-hued nails at the Golden Globes red carpet were perfect for the season.
Lupita Nyong'o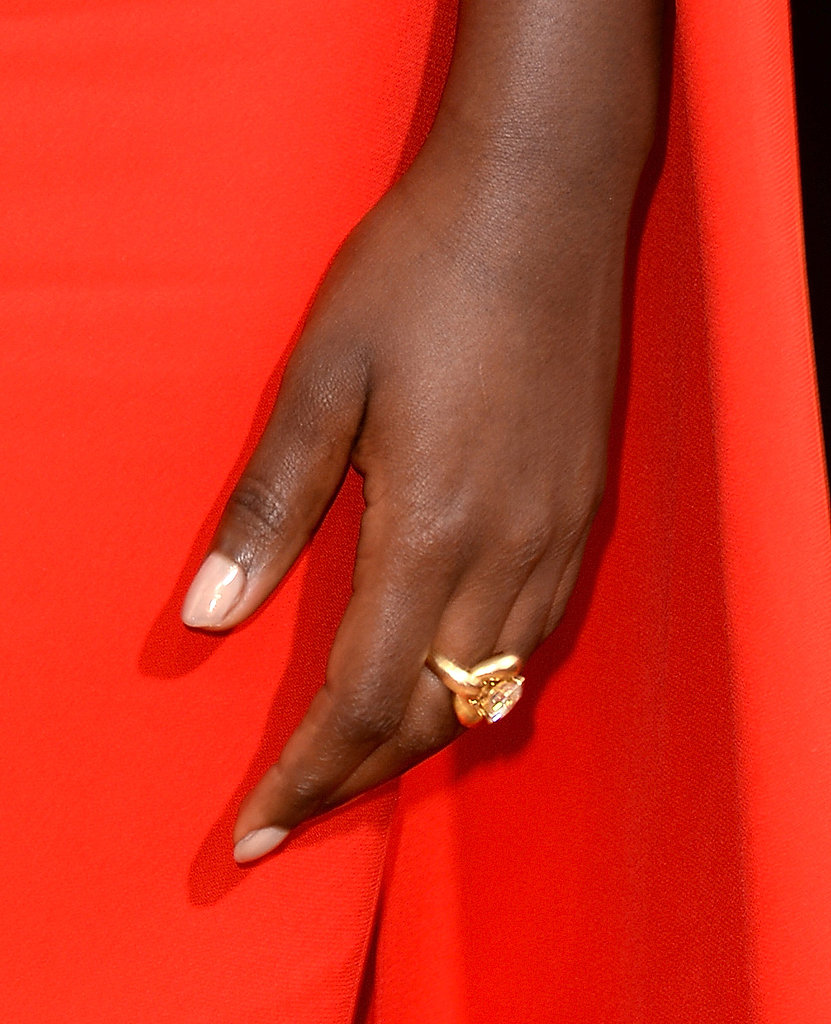 Lupita Nyong'o's nails were painted a neutral beige at the Golden Globe Awards. The shade was achieved using one coat of Deborah Lippmann [10]'s Naked [11] ($17) followed by a coat of Diamonds and Pearls [12] ($17).
Sarah Hyland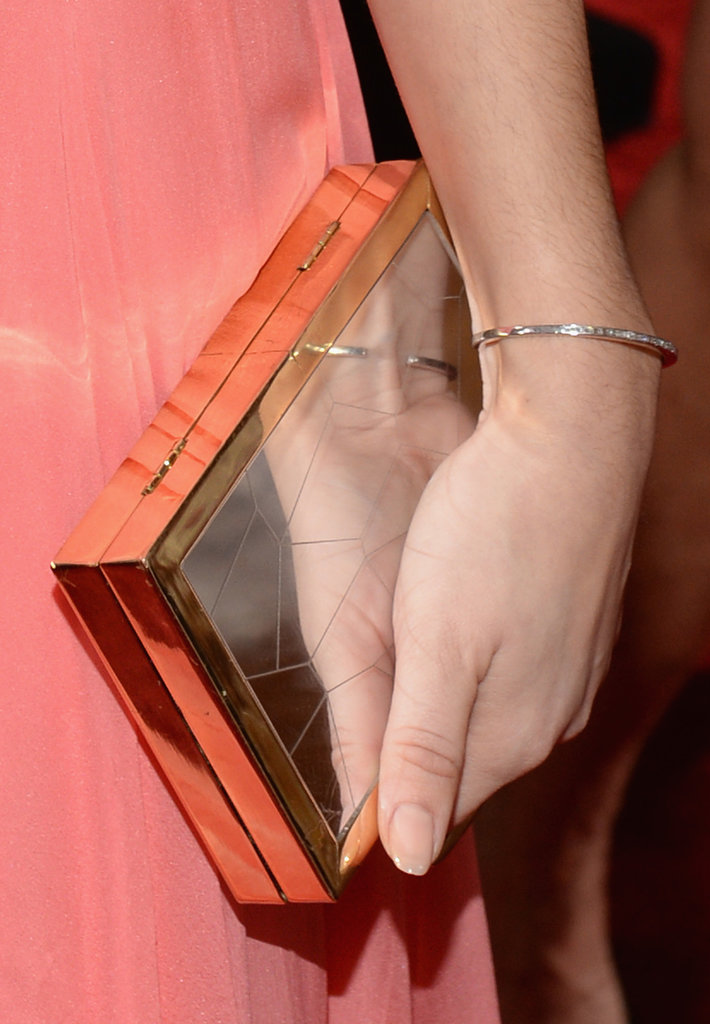 Nude nails were a trend on the Golden Globes red carpet, and Sarah Hyland wore the hue well.
Lizzy Caplan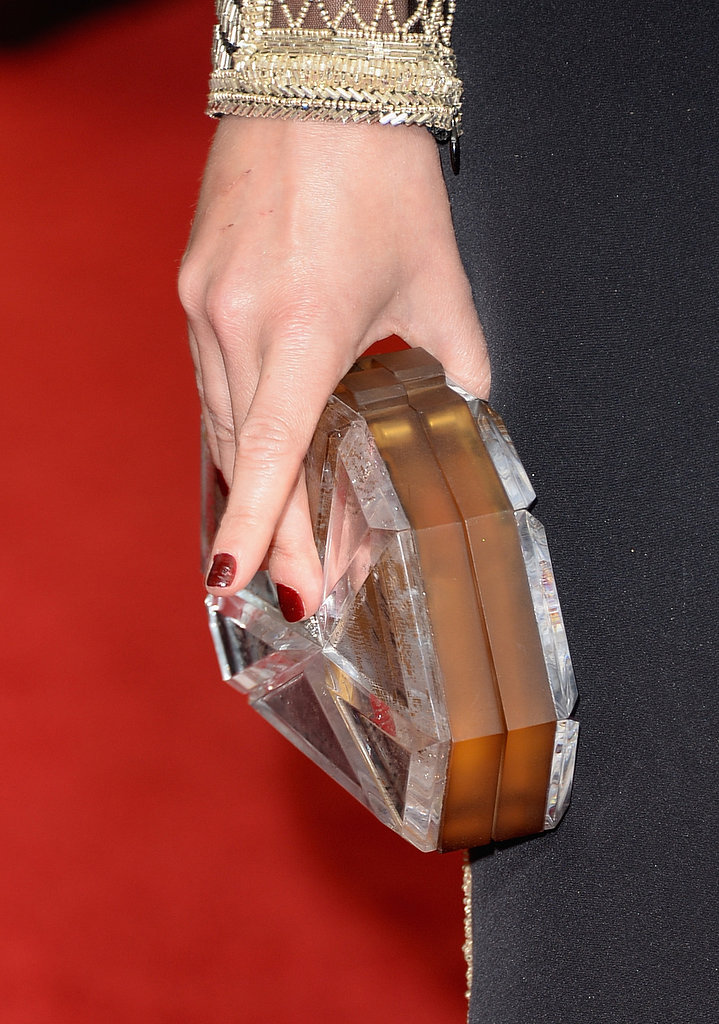 Opting for a classic, Lizzy Caplan painted her nails red for the Golden Globe Awards.
Jennifer Lawrence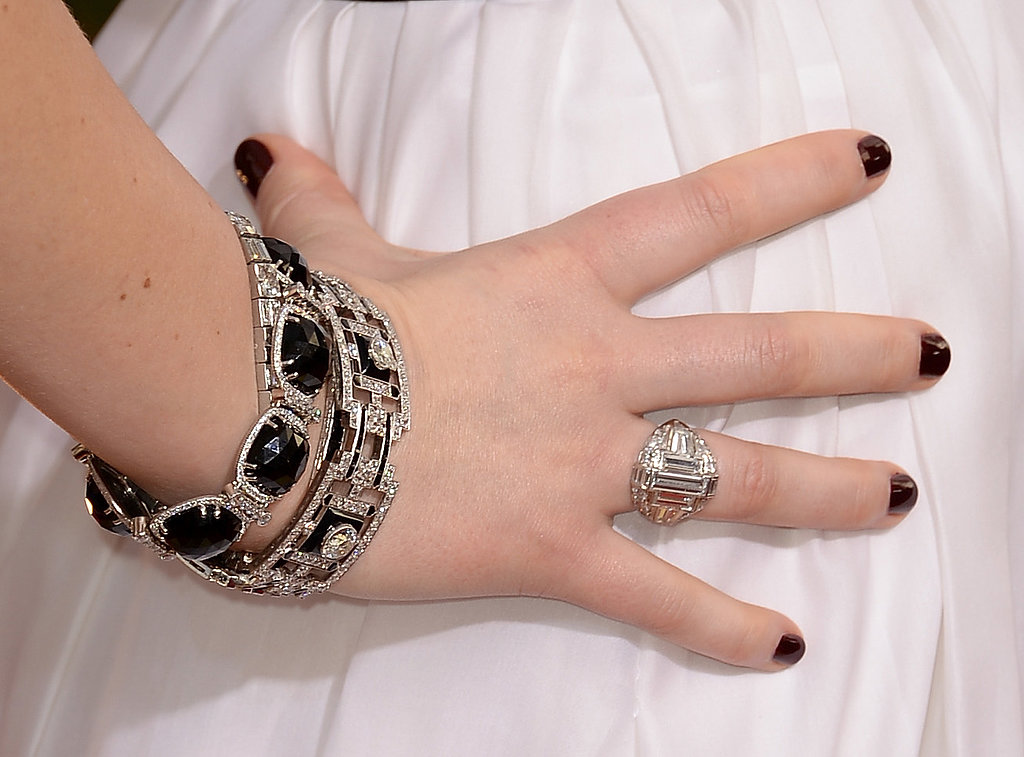 Before accepting her award for best supporting actress, Jennifer Lawrence showed off a dark burgundy nail polish hue — Deborah Lippmann's Bitches Brew [13] ($17) — that was similarly close to her lipstick shade of the night.
Rashida Jones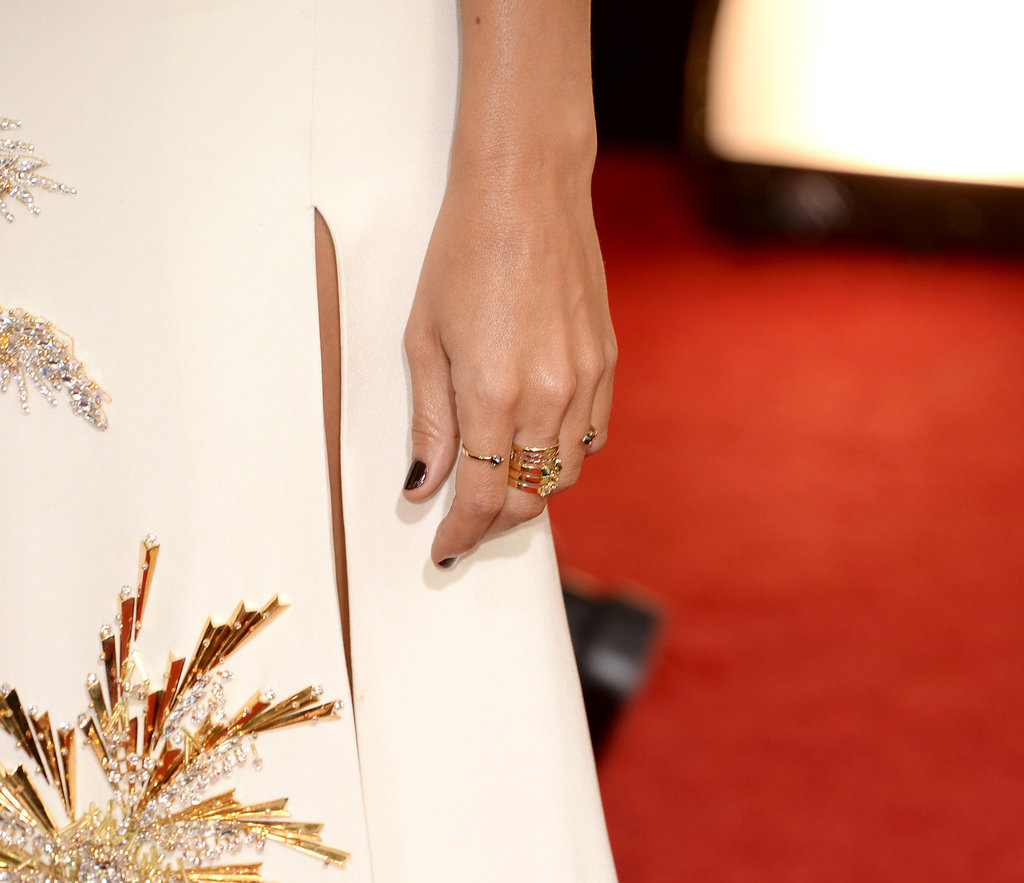 Rashida Jones's dark brown nail polish was a nice complement to her cream colored dress at the Golden Globes.
Leslie Mann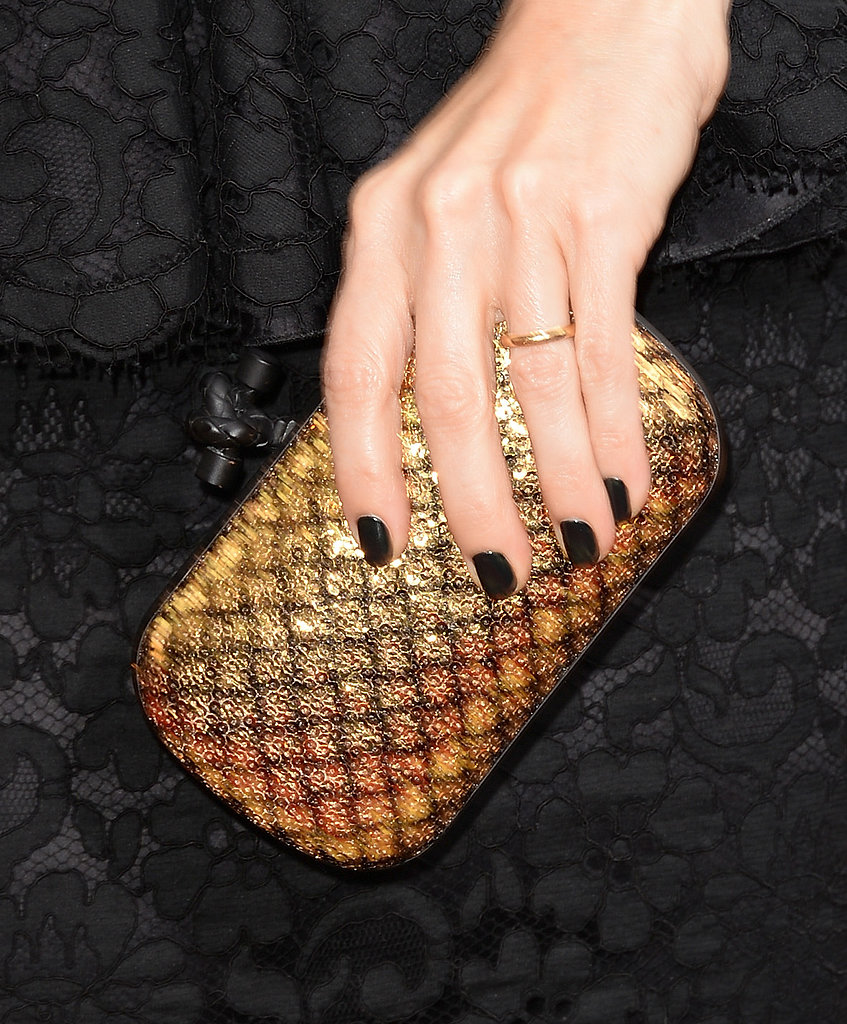 Leslie Mann's all-black manicure was super chic at the Golden Globe Awards.
Aubrey Plaza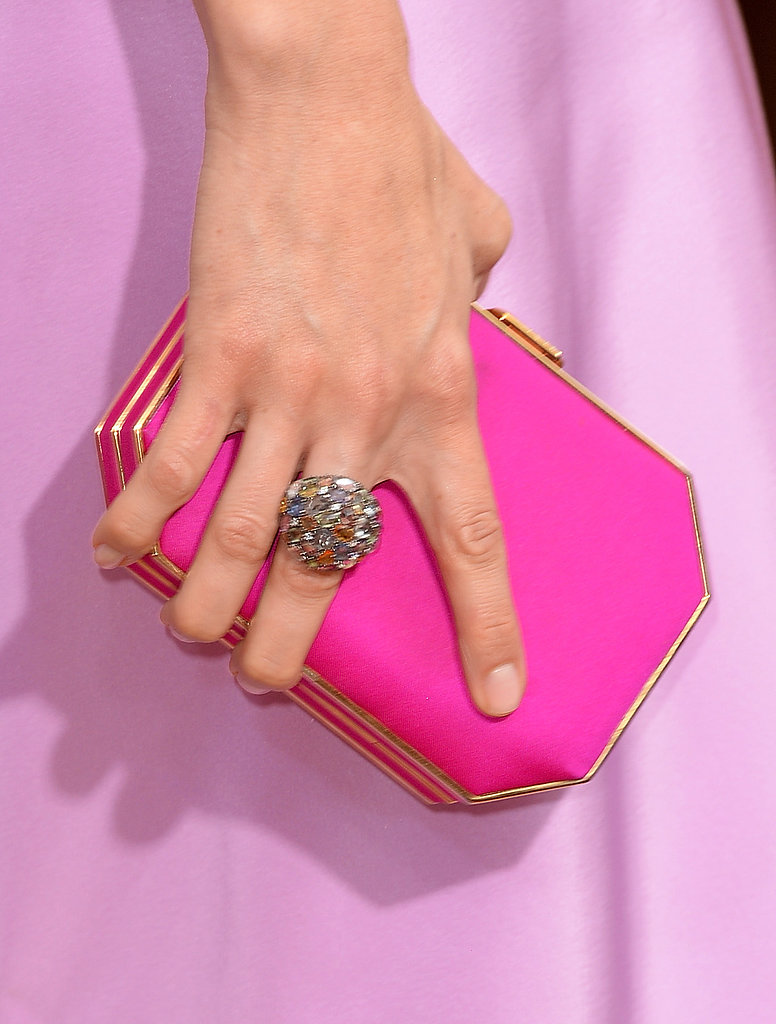 Aubrey Plaza opted for a glossy nude manicure at the Golden Globes.
Naomi Watts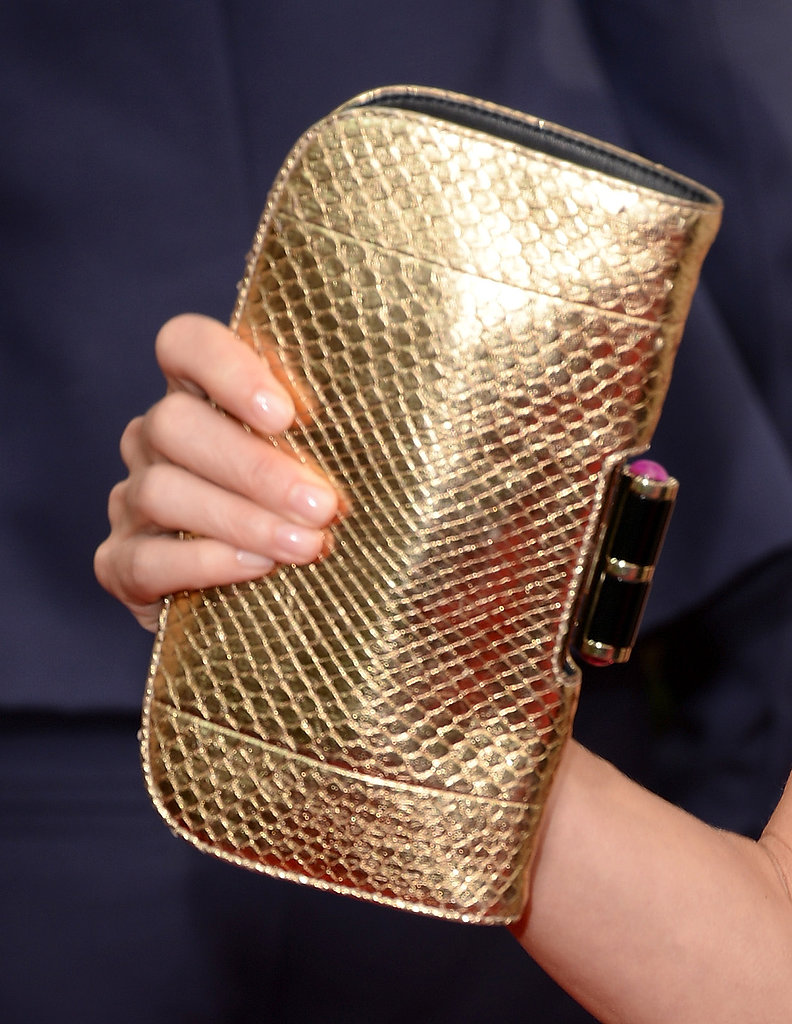 Keeping with her subdued look of the night, Naomi Watts [14] opted for a shiny neutral manicure at the Golden Globes.
Amber Heard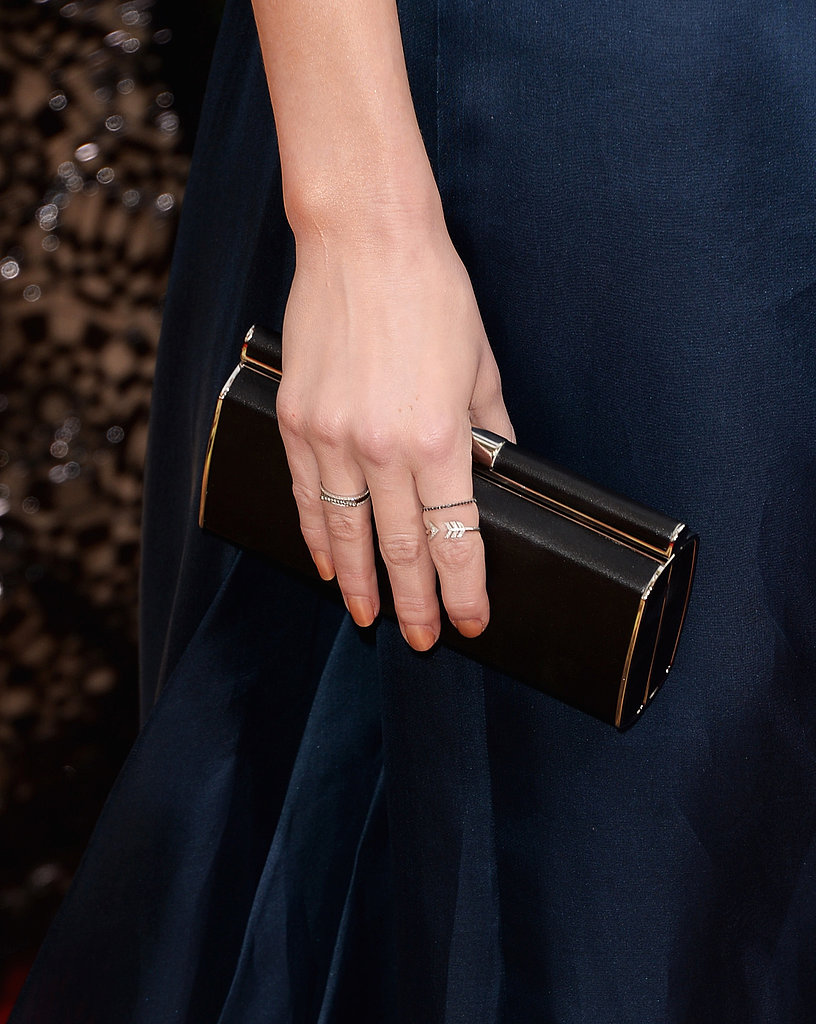 Amber Heard opted for shimmering bronze nails on the Golden Globes red carpet.
Emilia Clarke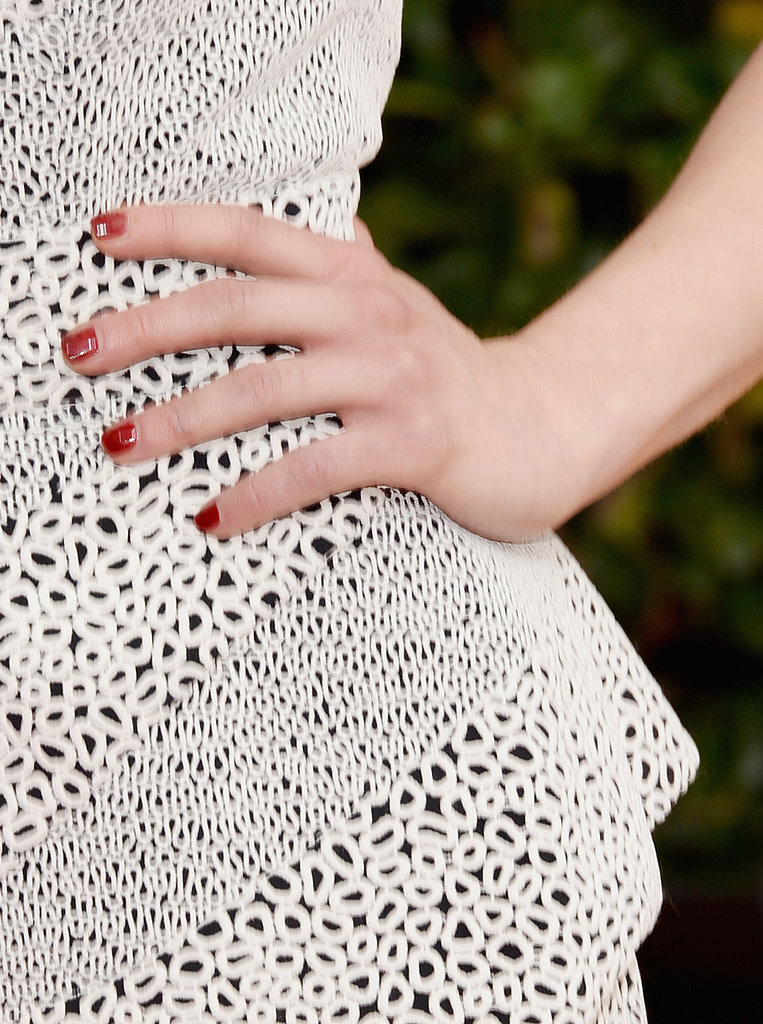 Emilia Clarke's crimson manicure was a classic at the Golden Globes.
Hayden Panettiere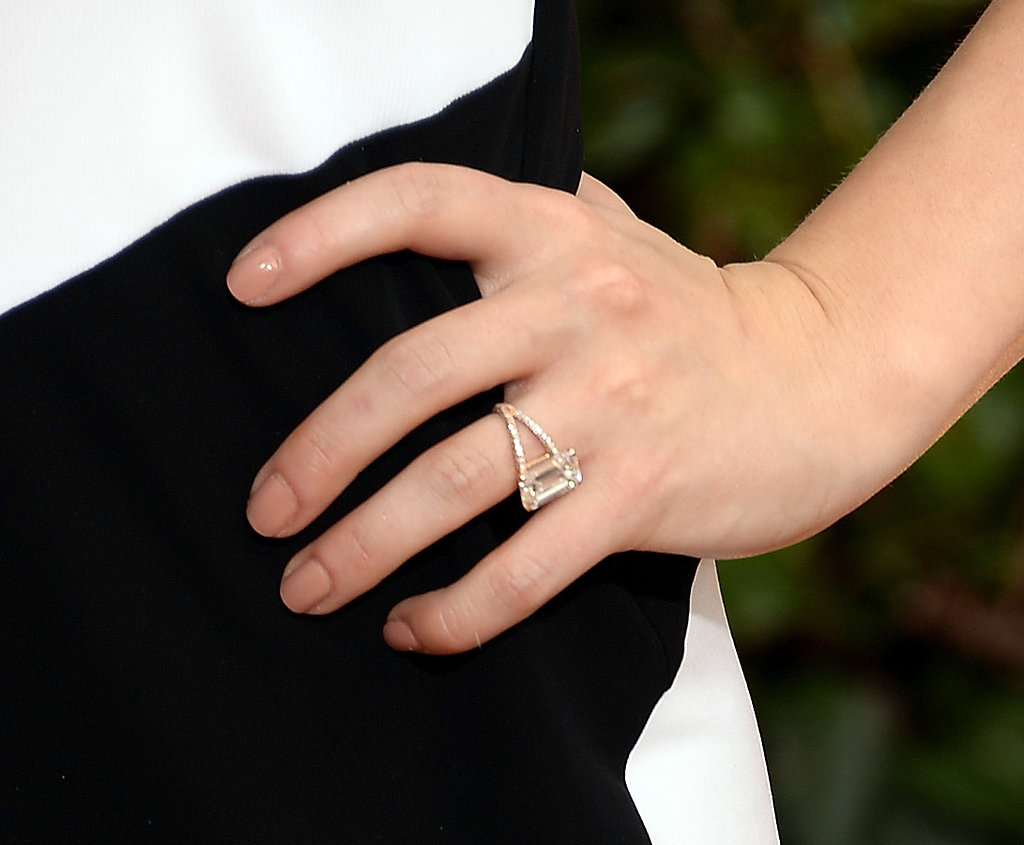 Hayden Panettiere [15] opted for a warm peach manicure at the Golden Globes.
Julia Roberts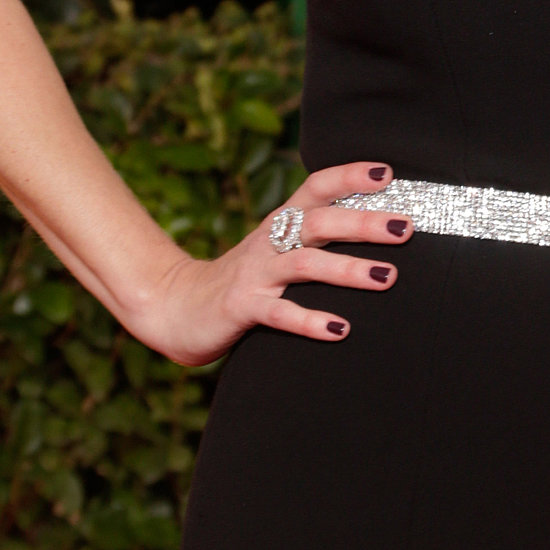 Julia Roberts [16] got her digits done by celebrity manicurist Lisa Jachno of Labnails [17]. Jachno shaped Julia's nails into a square shape using a Labnails taped file before painting them with Lancôme's Midnight Rose polish — a dark, vampy shade.
Lucy Hale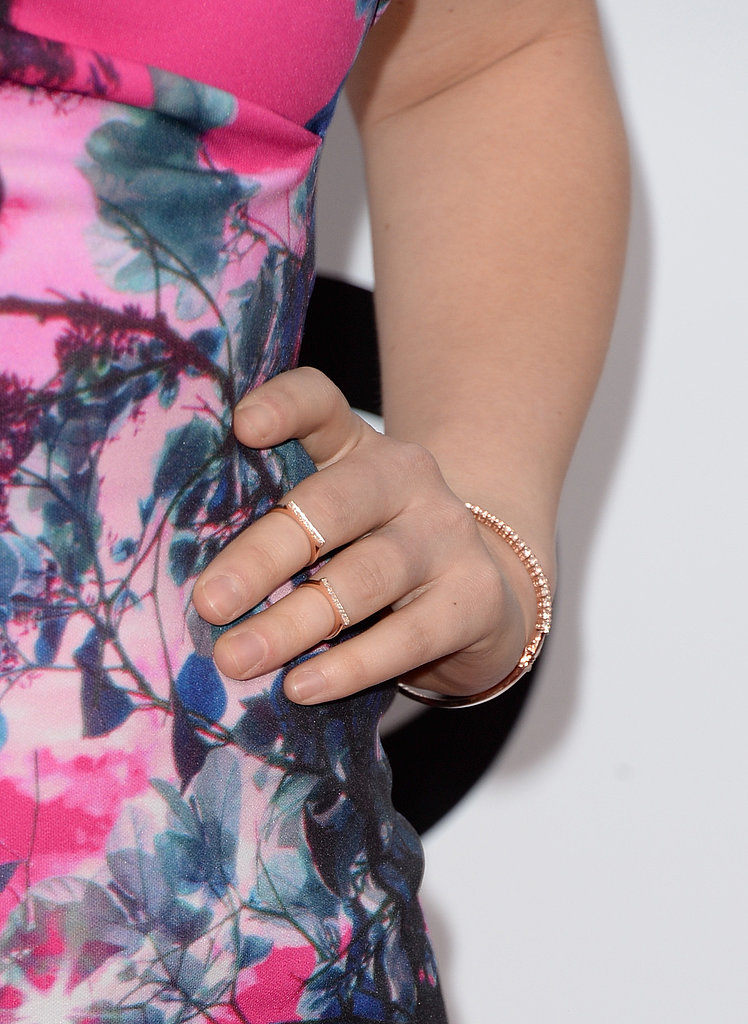 Nude nails were a trend on the People's Choice Awards red carpet, and Lucy Hale wore them well.
Heidi Klum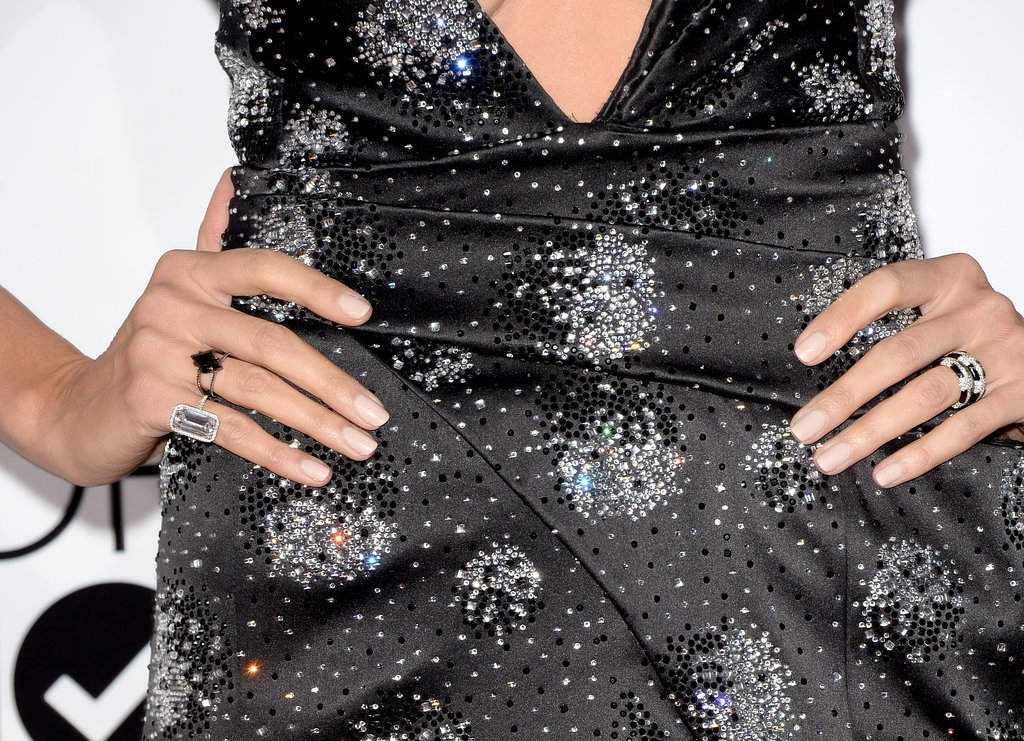 Heidi Klum [18]'s nude manicure was heavenly at the People's Choice Awards.
Jessica Alba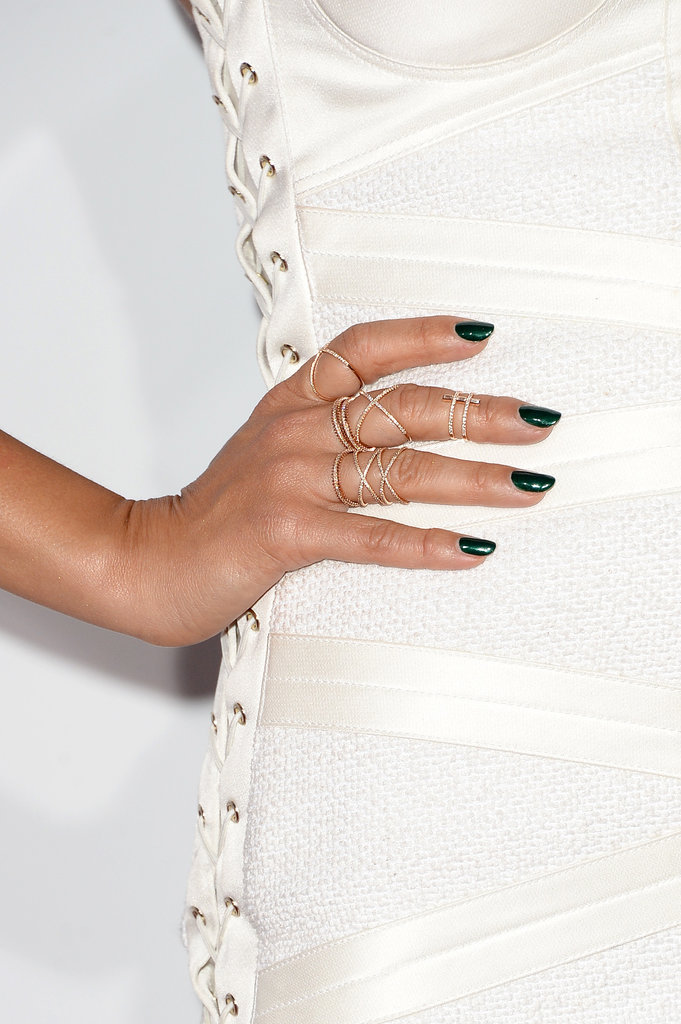 Who said emerald green wasn't a neutral? Jessica Alba [19] had us dying to try the trendy hue at the People's Choice Awards.
Sara Bareilles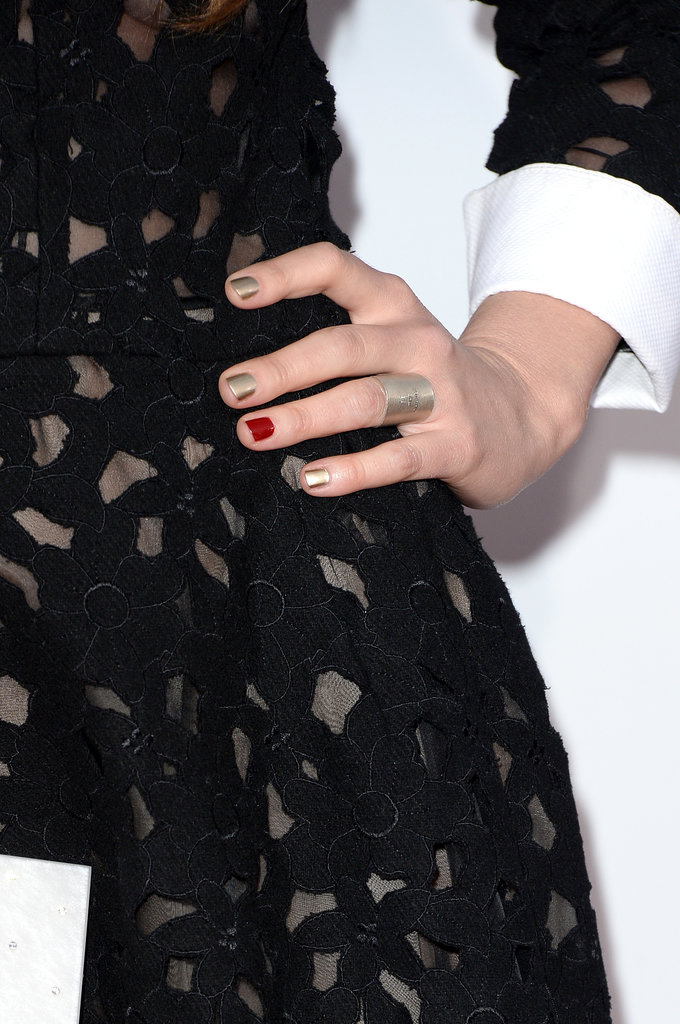 Anyone who plays with their nail art is good in our book, so Sara Bareilles's gold and red manicure at the People's Choice Awards was a serious treat.
Queen Latifah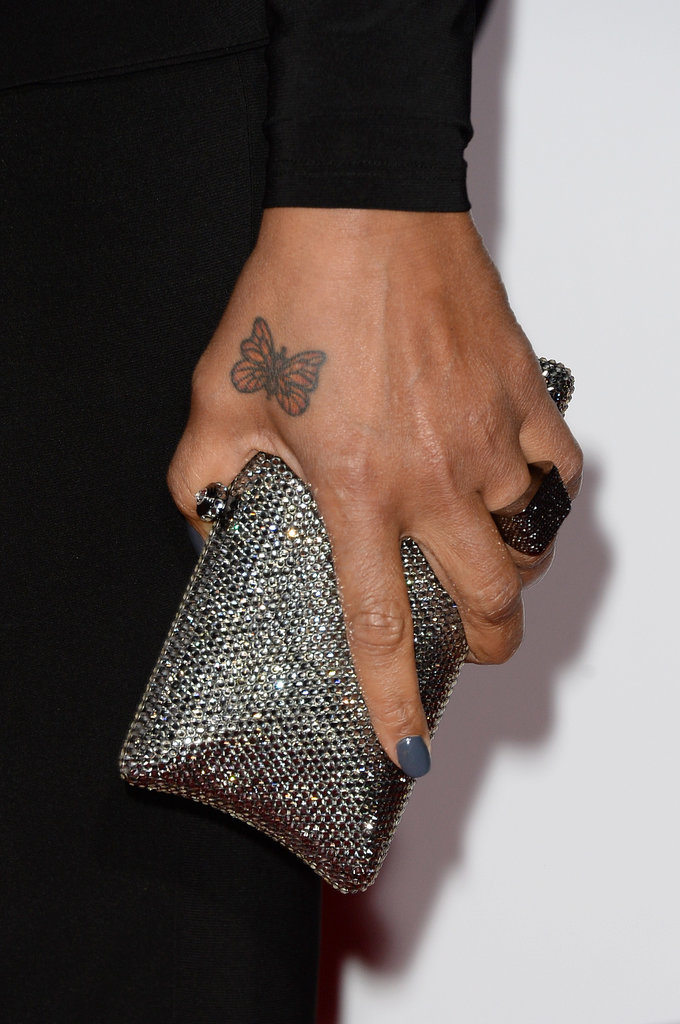 A dusty blue manicure looked chic and slick on Queen Latifah [20] at the People's Choice Awards.
Naya Rivera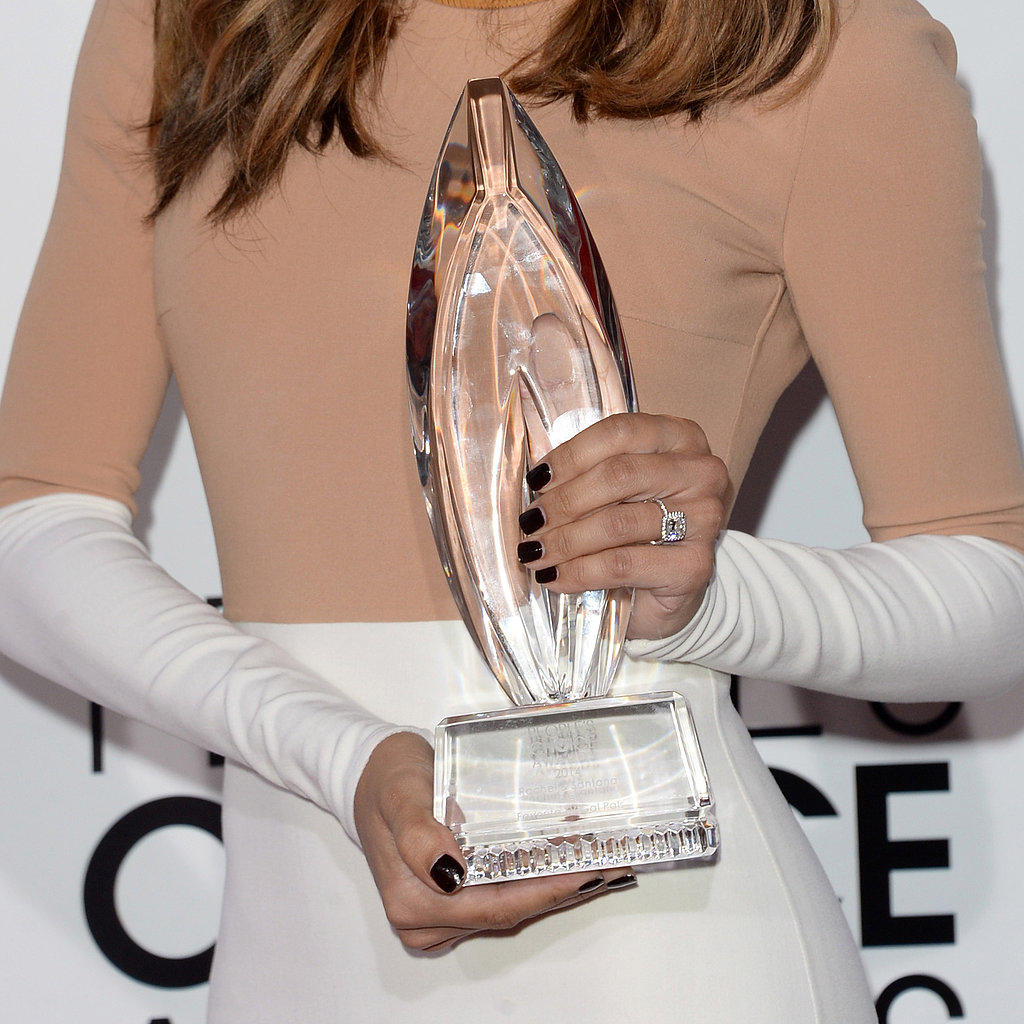 Naya Rivera posed with her dark metallic brown manicure and her trophy at the People's Choice Awards.
Anna Faris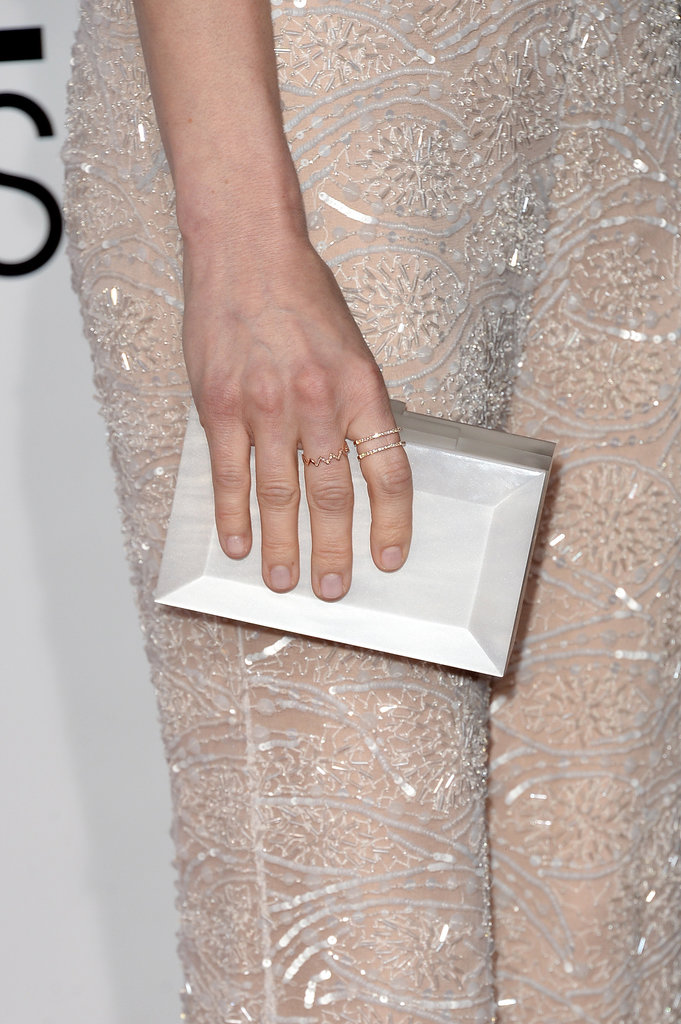 Anna Faris [21]'s ballerina pink manicure matched her flesh-toned gown perfectly.
Jennifer Hudson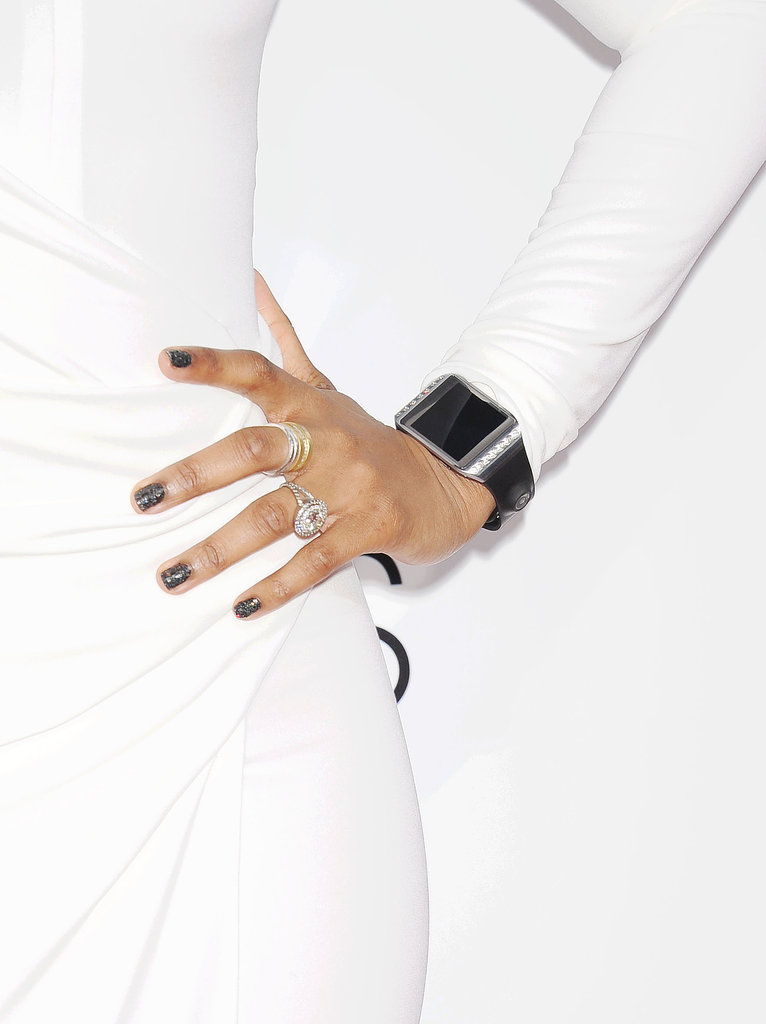 At the People's Choice Awards, Jennifer Hudson [22] opted for a completely textured manicure that looked like glittering scales.