Easy Ursula From the Little Mermaid Halloween Costume
Halloween Costume Idea: Ursula the Sea Witch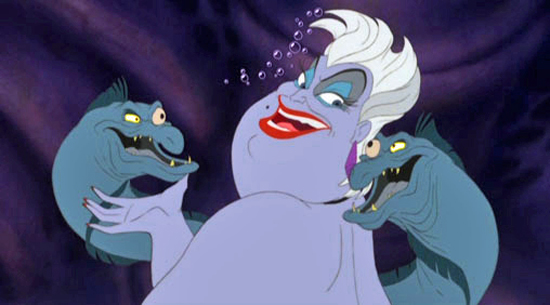 The costume: Ursula
For all her evil, there's something distinctively sexy (and cool) about power-hungry Ursula the Sea Witch from
The Little Mermaid
. If you're ready to step over to the dark side this
Halloween
, she's also a simple way to go bad in the best way possible.
Hair and makeup: Ursula is great, because you just need some purple face paint, red lipstick, and white temporary hair color or a cheap wig for her entire "look." If you're going the temporary color route, style your hair up as high as it will go (if it's short, you want it standing on end), and shellac it down with the spray color. Then slather yourself in face paint (preferably in liquid form if you want it to be fast), and pop on your red lips.
What to wear: A long, strapless black dress with slits in it to create the look of tentacles.
Take it to the next level: Instead of just cutting out tentacles, grab four pairs of opaque black tights and stuff them full of newspaper or plastic bags, then glue or sew them on your dress. Your extra legs will get plenty of dance floor space.