Estée Lauder Goes For the Gold This Fall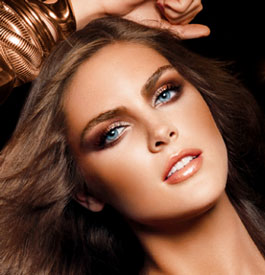 When it comes to makeup, I love gold, much like Austin Powers's nemesis, Goldmember. Not only does this shimmery color blend nicely with all skin tones, it helps bring a brightness to the complexion like none other. Estée Lauder's limited-edition Sensuous Gold collection features this gilded shade, accompanied by warm nudes and rose accents.

The highlights of the collection, which undoubtedly played a part in a "your makeup looks great" compliment I received this morning, include the Signature Eyeshadow Quad with Hammered Gold Design ($35), featuring four flattering colors that run the gamut from matte to shimmery finishes, and the Gilded Rose Marbleized Shimmer Powder ($36), a multitoned, brightening sheer coverage bronzer. The Rose Gold shades of Pure Color Multi-Shimmer Gloss ($18) and Pure Color Nail Lacquer ($18), along with the gold-shimmered Terracotta and Cinnamon shades of Hydra Lustre Lipstick ($19.50), complete the collection. Will you go for the gold?