The Meaning Behind Celebrity Tattoos
The Thinking Behind the Inking: Can You Guess the Celebrity Tattoo Quote?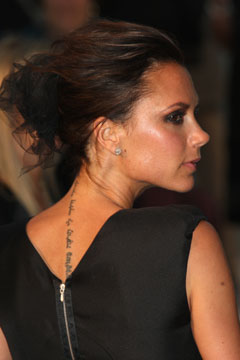 In the recent wake of the speculation behind Miley Cyrus's new "Just Breathe" tattoo, I got to thinking about other celebrity tattoos and the meaning behind the ink. Victoria Beckham, for instance, has "I am my beloved's, my beloved is mine," written in Hebrew along the back of her neck. I think we all know what that one means, but can you figure out who said what when it comes to the meaning behind their own celebrity inking?