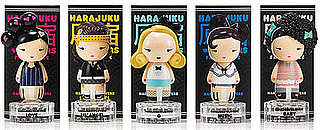 Oct 16 2008 - 5:30am
Inspired by the electric street scene of the Harajuku shopping district in Tokyo, the Harajuku Lovers fragrance collection is a set of five perfumes that capture the lyrics and iconography of Gwen Stefani's albums. They appeal to anyone who appreciates a "fatal attraction to cuteness."
The five fragrances are named Love, Lil' Angel, G, Music, and Baby. Each has its own distinct scent and accordingly its own special personality. Want to know which one is best for you? Click through the slideshow to get to know a little more about each of the girls and their scents.