Miley Cyrus [1] has been causing quite a stir as of late, from her recreational smoking habits to her bleached-eyebrow debut. And today she turns 21, making all her future antics totally legal . . . at least some. All this drama makes us think back to her more innocent days as Hannah Montana. That's right: before she made twerking a thing, she was working her Southern twang as a country star on the Disney Channel. Back then, she wore bubblegum-pink lip gloss and extralong locks. Now, Miley's style is more punk rock than Nashville. From a curly-haired girl to a smoky-eyed teenager to a precocious, pixie-haired woman, see how Miley morphed into the grill-loving, bum-shaking woman we know now. And in case you need a little more Miley today, tune into MTV, which is letting the birthday girl take over eight hours of the network.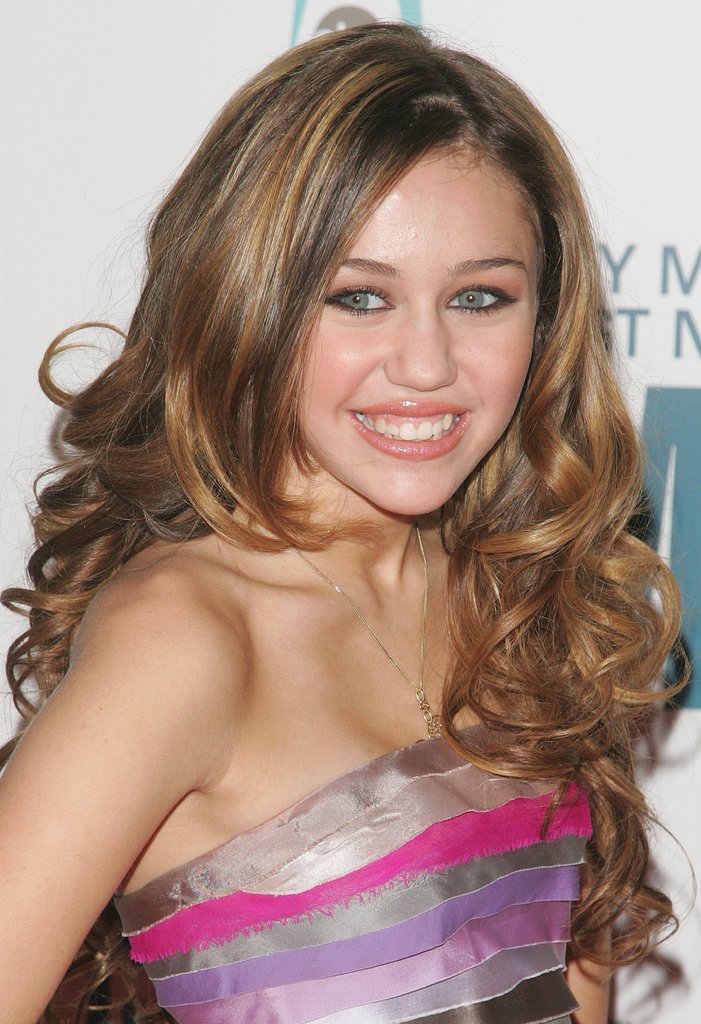 Dear sweet Miley Cyrus [2] arrived wide-eyed and bouncy-curled in 2006 as a Disney Channel darling. Her show, Hannah Montana, featured her famous country star dad, Billy Ray Cyrus, and the plot focused on her vocal skills.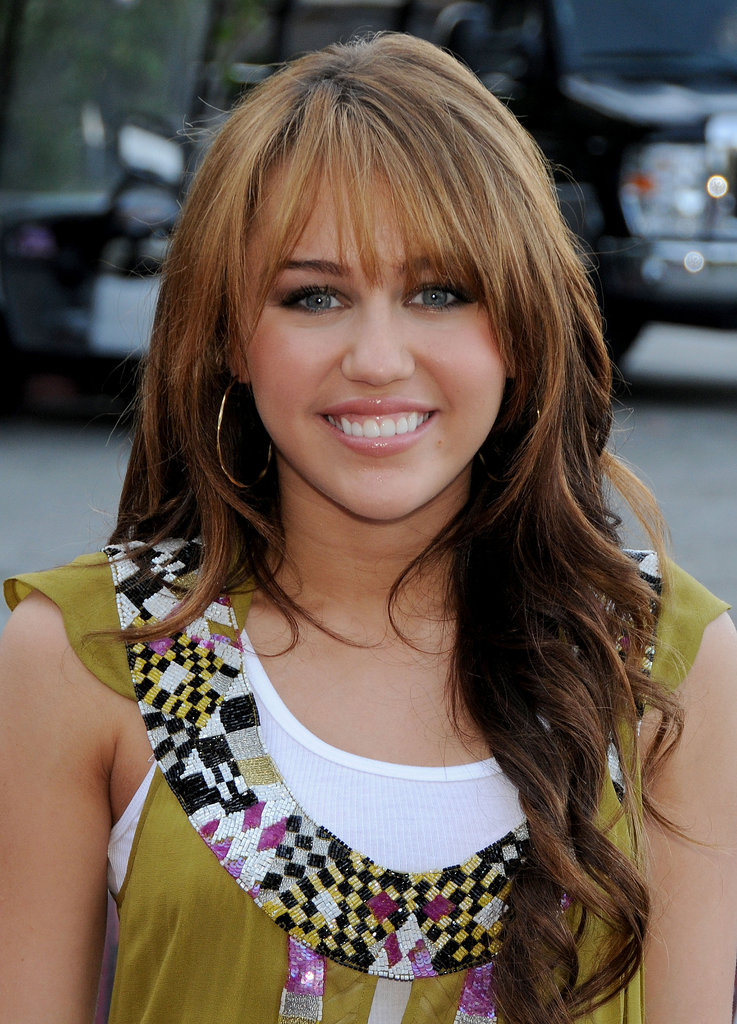 A little more grown-up, a 16-year-old Miley experimented with blunt bangs for a time and began her love affair with black eyeliner.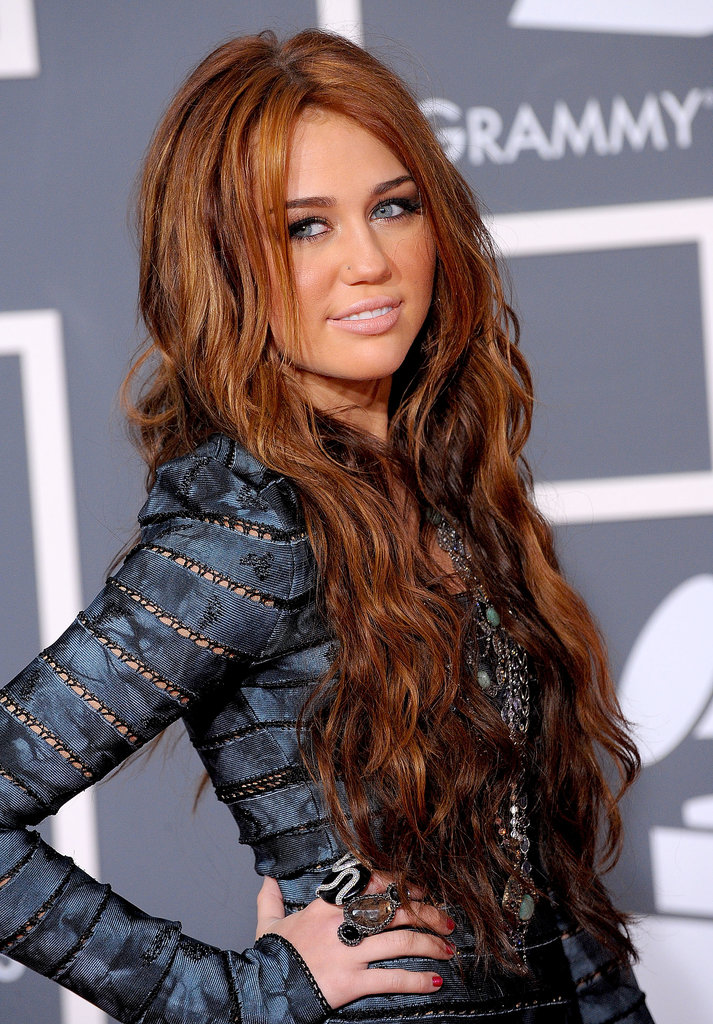 At the 2010 Grammy Awards, Miley went for a totally different look that featured wavy chestnut hair that was more rock star than country.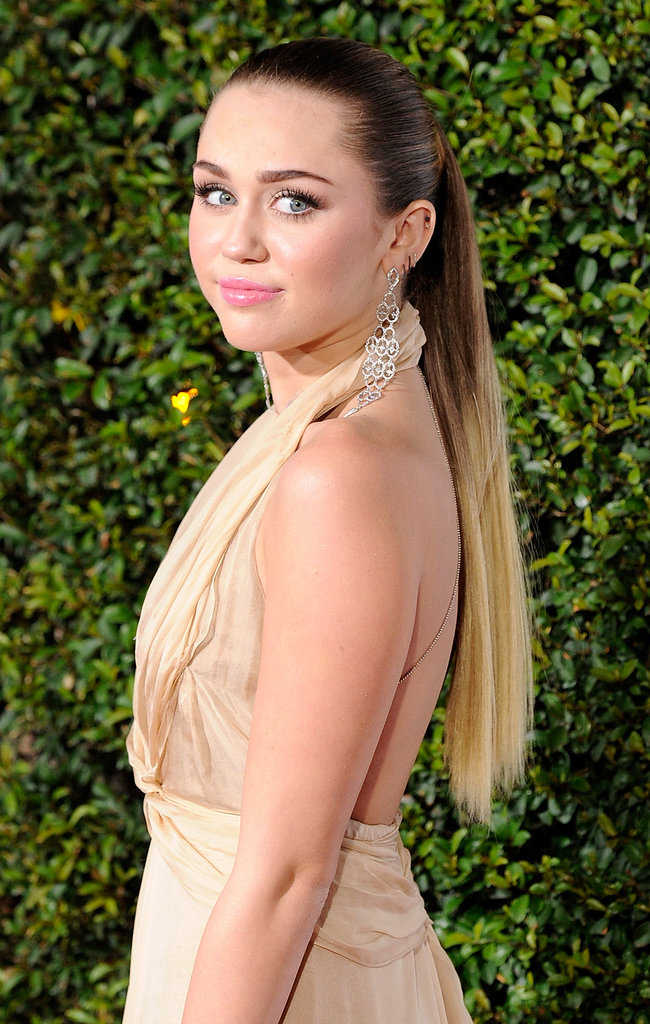 Miley was back to her sweet yet sultry style in 2011 when she sported this trendy ombré hair color and pink makeup palette.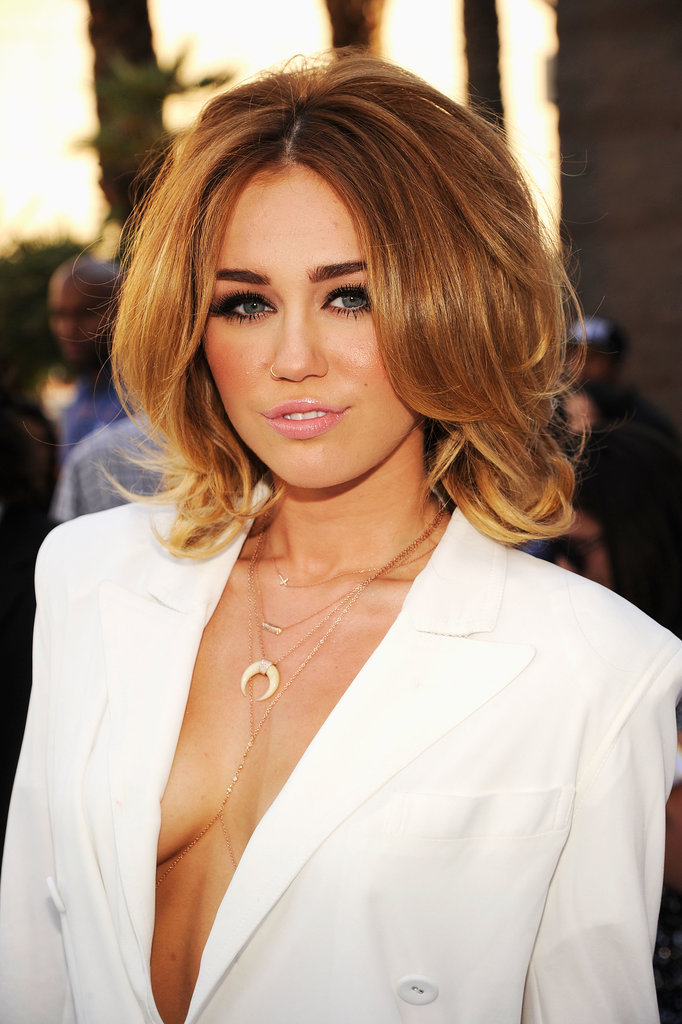 With her voluminous curls, smoky eye makeup, and plunging neckline, Miley seemed to be sending a message at the 2012 Billboard Music Awards: "So long, Hannah Montana!"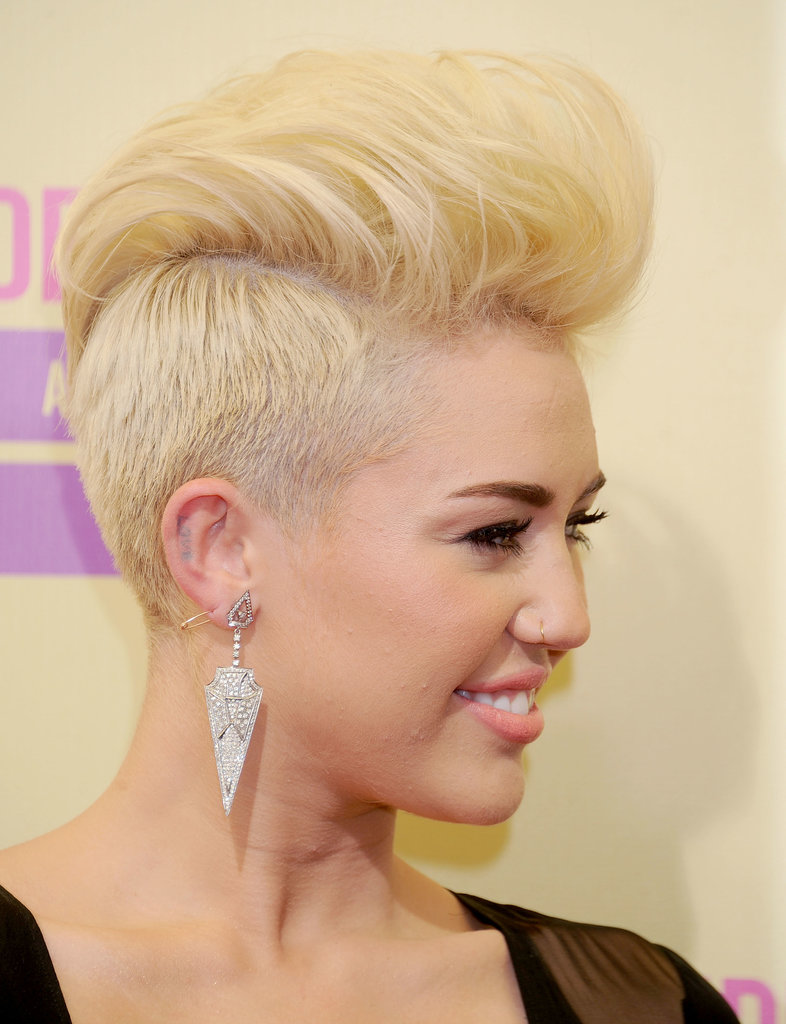 Jennifer Aniston [3]'s go-to hairstylist, Chris McMillan, was responsible for Miley's drastic hair change in Fall 2012. She went from a blossoming brunette to a provocative platinum blonde overnight.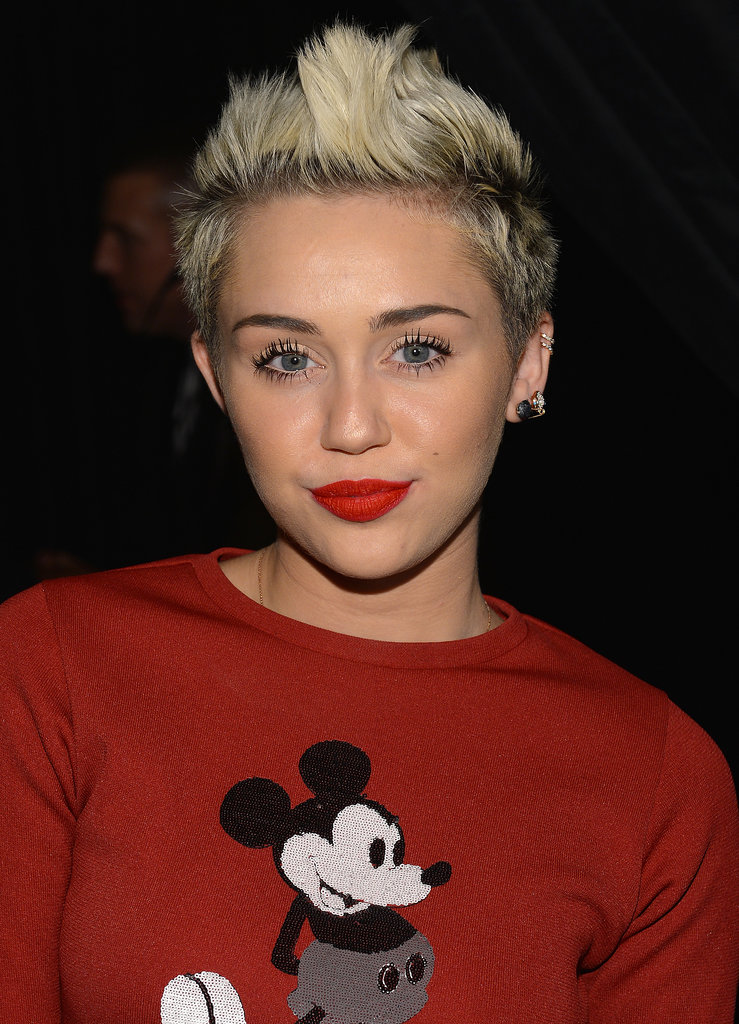 Miley went even shorter with her hair in early 2013, spiking her white-blond tips straight up against her darker base.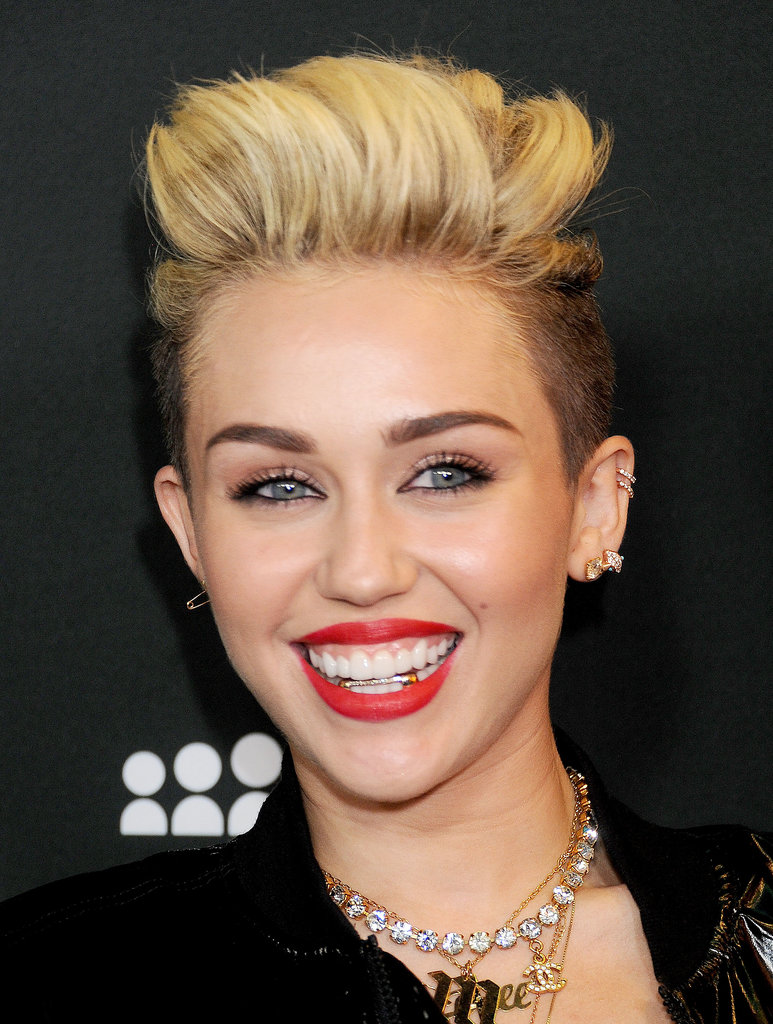 This Summer, Miley showed off her signature cherry-red lip color — and an edgy new grill.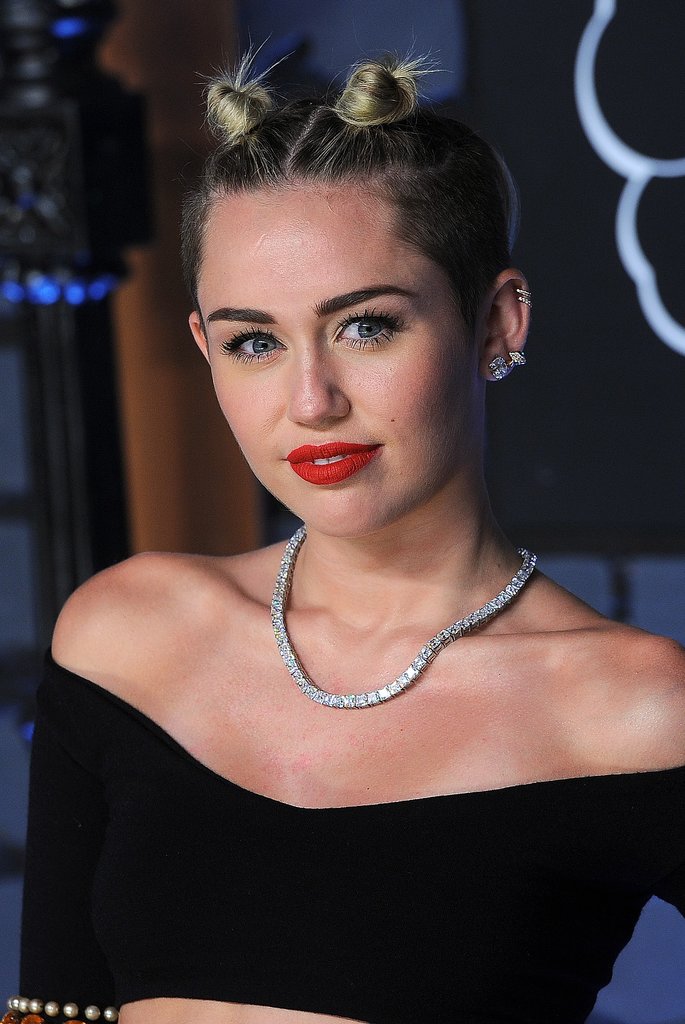 With her hair a little grown out, Miley was spotted sporting double topknots at the 2013 MTV VMAs. Incidentally, the style is quite conducive to twerking because you don't have to worry about getting hair in your face!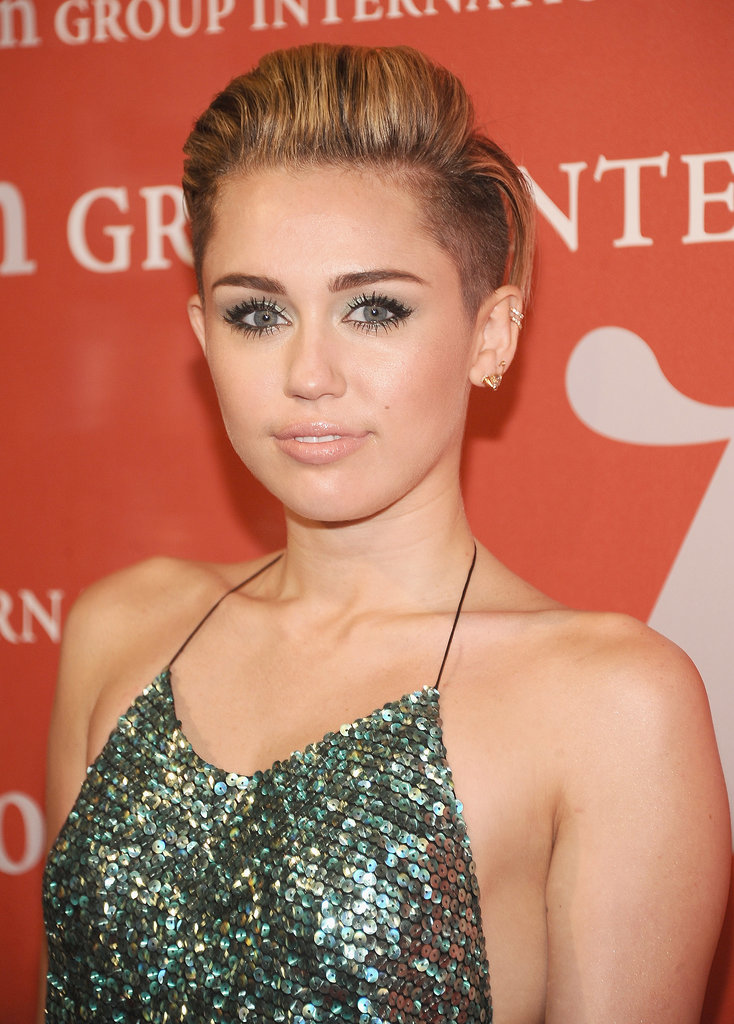 Miley toned her beauty look down at the 30th annual Night of Stars event wearing a seafoam eye shadow and sequined dress, transforming her shaved sides into a very ladylike look indeed.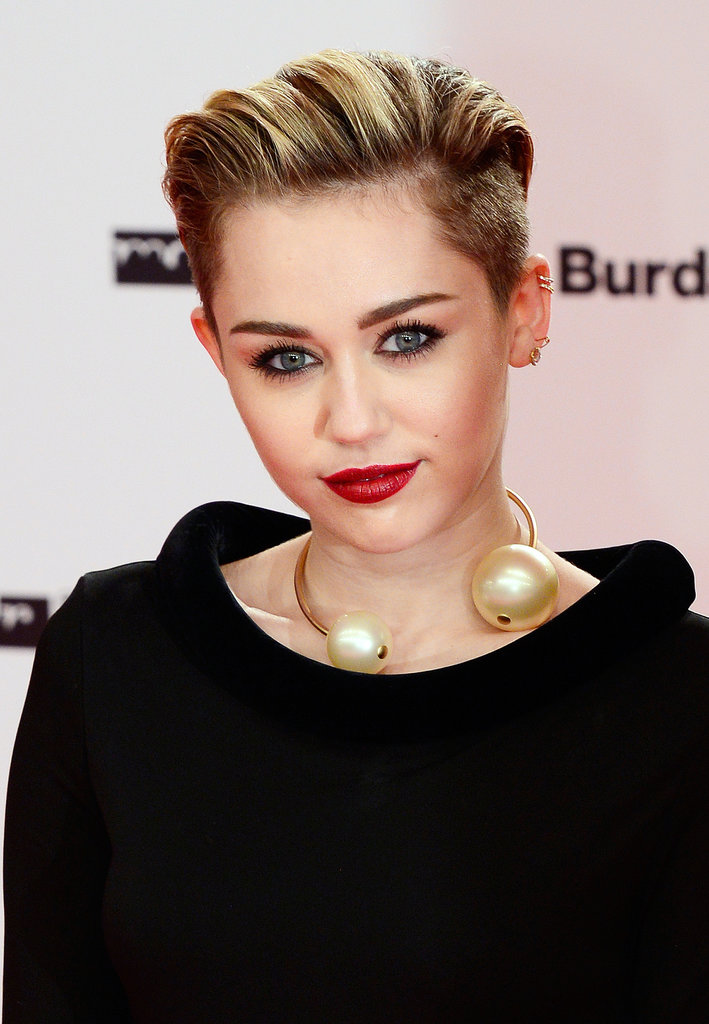 This vampy lipstick and heavy eyeliner combination works perfectly with Miley's slicked-back hairstyle. This appearance was the last time the singer was seen before bleaching her eyebrows [4].