Mousses vs. Soufflés: Do You Hunger to Know the Difference?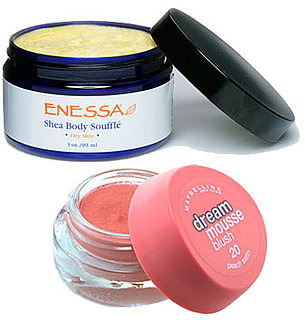 The other day, after testing out a sample of Enessa Shea Body Soufflé ($35.50), I was reminded how emollient, yet not greasy, this type of "lotion" can be. The fact that these styles of creams still manage to be heavy-duty without taking it too far into the grease-pit range makes sense.

The word soufflé is past tense of the French verb souffler, which translates to "to blow up." Because these formulations are whipped, that's exactly how soufflés maintain their smoothing and softening qualities. Thinking about soufflés got me to thinking about mousses, and also got me to thinking about food. We'll save that part for Yum, but to find out more about soufflés and mousses when it comes to beauty, just keep reading.

Soufflés
In the land of food, a soufflé is baked, has an eggy consistency, and is almost always served hot. In the world of beauty, a soufflé, which is essentially a fancier way to say whipped, is typically rich, thick, and hydrating. Due to its higher levels of oils and lower levels of water, a soufflé tends to take longer to be absorbed, but is excellent at softening dry skin. Try Booth's Buttercream Body Soufflé ($6.50) or Carol's Daughter Sandalwood and Vanilla Shea Soufflé ($13).
Mousses
In makeup: In the culinary world, mousses are decadent desserts that are served cold or chilled, but in the beauty realm, a mousse formulation used in makeup provides excellent, lightweight coverage without caking or creping. Light and airy, mousses are creams with a whipped texture, and are praised for their ability to even out the skin tone while giving a natural finish. Plus, since they're lighter in texture, they're easy to apply — perfect for those of us who need a quick fix. Try Avon Line Softening Mousse Foundation ($12) or Maybelline Dream Mousse Blush ($7).
For the hair: Hair mousse, worn by every adolescent of the 1980s, is used to help define wave or provide fullness for those with curly hair. For those with limp hair, mousse is the perfect product to help amp up volume in fine or thin locks.