Reader Review of the Day: Estée Lauder Foundation Brush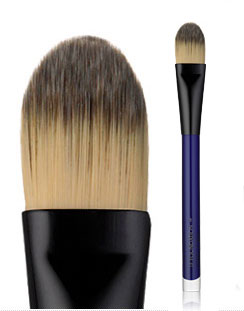 Zoot alors! My favorite foundation brush recently bit the dust. After searching through the Product Reviews pages, I think I might just have to give Estée Lauder Foundation Brush 1F ($30) a try. Reader brandysbug had nothing but positive things to say about this makeup brush, and here's why:
When I purchased this brush, it was a huge splurge for me. I just don't usually drop $30 on something like a brush, but I was pregnant, having major acne problems, was totally into the Estée Lauder Resilience Lift makeup line, and the saleslady talked me right into it. For liquid foundation, this is absolutely a wonderful brush. It helps to get the most from your bottle as it provides better coverage with less makeup than possible with other methods (sponge/fingers). This brush definitely helped me out covering up some very bad acne. It provided the full coverage I needed without piling too much makeup on. The results of using this brush with liquid foundation were astounding. My face almost looked airbrushed. I would recommend this to anyone who is considering buying a new foundation brush. It's worth the $30.
What makeup brushes can you not live without? What brushes went straight to returns? Tell us all about it on our Product Reviews pages. We love to hear your opinions — good, bad, and everywhere in between.