Review of L'Oréal Go 360 Clean Deep Exfoliating Scrub
Doing Drugstore: L'Oréal Go 360 Clean Deep Exfoliating Scrub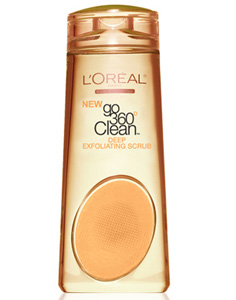 Recently, L'Oréal came out with four new products in its Go 360 Clean Deep line ($6 each): a Cream Cleanser, a Facial Cleanser for Sensitive Skin, the gel-based Facial Cleanser, and an Exfoliating Scrub. OnSugar blogger Kiss and Tell shared her review of the creamy cleanser with us a few months back. Since I have had such a good experience with the exfoliating version, I couldn't help but share my review. What's so great about it, anyway? To find out, read more.

Disclaimer: I might be biased on this one because I'm already a huge fan of exfoliating cleansers. Perhaps it's because I tend to get acne and I have, through trial and error, discovered that these types of formulations simply work better for me. Or perhaps it's just because they feel so darn nice. And while the scrublet that's attached to the bottle might be a bit of a gimmicky marketing ploy, it adds an extra layer of cleansing power that nudges this product into a must-try category. Not only does it create a massaging effect on the face, but it also lends a boost to the sweet-smelling scrub itself.

About the smell . . . when it comes to scented products (and let's face it; what isn't scented?), I'm actually not a fan — particularly of products in the fruity category. But this scent, while slightly reminiscent of Strawberry Shortcake's Apricot doll friend, is non-cloying. If you have sensitive or dry skin I'd stay away. But for the way it foams when cleansing and makes my skin feel smooth, and especially because it contains pimple-fighting salicylic acid, I can't help but be a happy scrubber.