Witchy Makeup Ideas: Wicked's Elphaba
Witchy Makeup Ideas: Wicked's Elphaba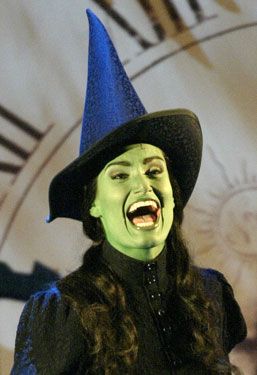 When it comes to
Halloween
, there are a few standards. You can't get any more classic than with mummies, vampires, and of course — witches. Last week, I was inspired by
the White Witch
from
The Chronicles of Narnia
, a beautifully frosty costume choice. Today, let's go with a more standard interpretation,
Wicked
's Elphaba, the future
Wicked Witch of the West
from
The Wizard of Oz
. But this character is hardly witchy at all, just a little misunderstood. Beautiful in her own right, Elphaba's just not a hairy warts kind of gal. To get her look, it's all about going green, complete with emerald or gold nails, long wavy hair pulled back into pigtails, emphasized brows, and a cone-shaped hat. For Elphaba's schoolgirl look, wear wire-rimmed glasses, a blue beanie, and a braid tossed to the side.
To see more pictures of Elphaba in her full-fledged witchiness, just keep reading.