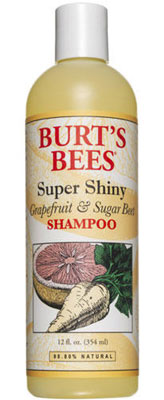 The shampoo part aside, Burt's Bees
Super Shiny Grapefruit and Sugar Beet Shampoo
($8) sounds straight up like something you'd see on the kitchen table. And after trying out this cleanser, which is free of sulfates and parabens, reader
steen
has nothing but positive things to say.
"Trying to find an affordable sulfate-free shampoo has been difficult for me. All the ones I've tried have left my hair dried out or greasy. I stumbled upon Burt's Bees Super Shiny Grapefruit and Sugar Beet Shampoo and Conditioner while perusing the products at the drugstore and I am in love. The shampoo lathers really well, rinses easily, and smells great — like sugared grapefruit. It also actually makes my hair incredibly shiny. (Too often products claim to, but I don't see any difference.) I love that I can get it just about anywhere and it's only $8 a bottle — sometimes less if it's in a value set or on sale."
Be sure to check out steen's review for the conditioner, too, and then check out all of the other reviews on our wildly-popular Product Reviews pages. Who knows what you might discover.