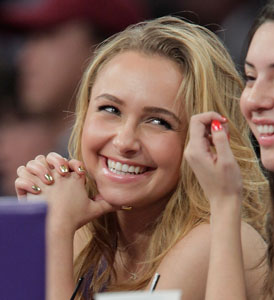 Minx manicures, the metallic-colored professional-only nail wraps, are becoming more popular thanks to celebrities like
Rihanna
, Beyoncé, and
Kelly Clarkson
. Most recently, at an LA Lakers game,
Hayden Panettiere
wore a gold foil manicure. Seeing her auriferous manicure got me to thinking that perhaps I should try my hand at sporting some Minx, and according to the brand's website,
the nearest salon
is a just a mere .2 miles away from my apartment. What about you? Have you tried — or do you plan on trying — a fashionable Minx mani?