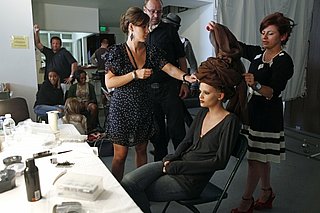 Last night's episode was all about heavy product placement. And looking good while wearing a scarf over your face, apparently. Though I found its events slightly more engaging than last week's snoozefest, it's hard to care about a group of girls running around a big-box store* — especially when we've seen this challenge over and over. Dare I say the
ANTM
soda may be losing its fizz?
Still, at least we had no-eyebrows Erin shoving her way ahead, and Laura's granny couture continues to charm. That's enough to earn three short-legged Milos for this week's episode. Were you keeping an eye on the beauty looks? Test yourself.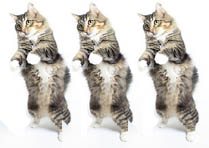 Photo courtesy of The CW
* Keen viewers will notice that in this photo, the stylist is wearing a dress from the big-box store's competitor, Target.
Take the Quiz