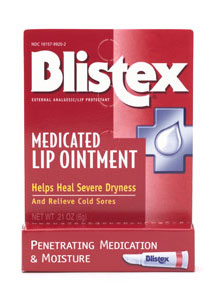 Remember how I asked you if
obsessively applying lip balm
is a problem for you? Recently, it certainly has been a problem for me, particularly after a case of medication-induced angular cheilitis (aka cracks on the corner of the mouth). Enter
Blistex Medicated Lip Ointment
($2), a very inexpensive drugstore option that contains camphor, menthol, and phenol, all of which, I might add,
can actually cause drying of the lips
.
That aside, when all was said and done, the Blistex did indeed provide relief to my chaffed, sore lips. This treatment has somewhat of a medicinal, minty smell, but not in a completely overpowering kind of way. Its creamy texture does indeed take longer to blend into the skin than, say, a ChapStik or Vaseline-based ointment-type formula. Often, I was left with obvious whitish marks where the product had been applied, but after a minute or two, the white marks vanished, and all was good with the world again. Speaking of all that's good, what I like most about this lip product is that it doesn't have a strange aftertaste, and it's not greasy. In fact, I consider it more of a conditioner than anything else — a conditioner with medicinal properties. As for the cracked corners of my lips, after a few days, the problem was. . .salved. Sorry.