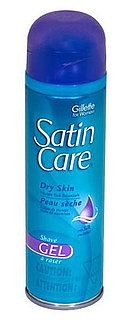 I've been a bad girl. I've been shaving with soap because I ran out of shaving cream and forgot to restock. So I hit up the
Product Review
pages to find out what shaving lather is rated highest by you, our trusted readers. The consensus? Gilette's
Dry Skin Shaving Gel
($3) not only has the most reviews in the shaving category, but it also has a 4.5-star rating. Here's what
brittanyk
said about this classic gel:
I wouldn't say that this is formulated that much differently than any other Gillette women's shave gel, but I do like this one. It lathers up very nicely and it doesn't really smell like much, so if you're not into scented products this one isn't really at all. Whenever I use this I generally don't get any razor burn, which is always a plus. It does its job well. The only complaint I have about this is that it isn't very moisturizing. I feel like I have to put on a ton of lotion after I shave my legs with this stuff.
Got a favorite gel or cream shaving item you can't do without? Or perhaps you've got something not so kind to reveal about a particular shaving product. Head over to our Product Review pages to share your opinions and see what other readers have to say. You might be the next lucky person to be featured on this daily post.