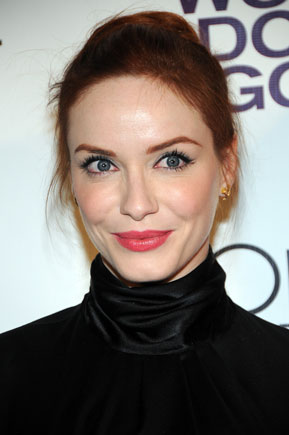 Christina Hendricks may be nominated for an Emmy in the outstanding supporting actress in a drama series category, but this year she's making it even more of a special event. She'll be attending the festivities on Sunday escorting 17-year-old David, a participant in the Make-A-Wish Foundation.
Make-A-Wish and Latisse (for which Christina is a spokeswoman), have partnered in hopes to raise $500,000 for the charitable organization. Christina explains, "I'm encouraging people to go to latissewisheschallenge.com because for every donation of $20 or more, Latisse will match it, and it will go toward the Make-A-Wish Foundation so we can grant more wishes."
She adds, "We're trying to grant a wish in every chapter across the US. And also if you donate $20 you'll get your first month of Latisse for free — which is an added bonus." To see more of our one-on-one interview with Christina, who talks further about her involvement with Make-A-Wish, her day-of Emmys plans, and more, just keep reading.