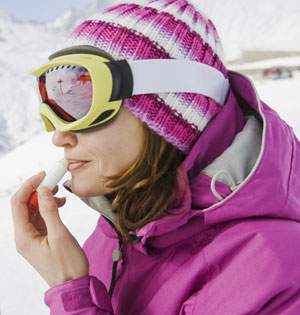 I've definitely been turning up the heat since the weather has been so chilly, but it's drying out my skin, especially my lips. Since the skin on this part of your body doesn't secrete any oils, it's more susceptible to drying out. Here are some ways to prevent this sensitive skin from cracking.
Avoid licking your lips. Saliva will momentarily add moisture but it will evaporate, making your lips even drier. Also, your saliva contains some digestive enzymes, which will irritate sore lips even more.
Keep your lips moisturized with lip balm. Ones with beeswax, such as Burt's Bees Lip Balm, are soothing and long lasting. If you're outside a lot, use tinted lip balms with SPF to keep your lips protected from sun exposure, which can also dry them out.
Add moisture to the air you breathe with a humidifier. Keep it running in your bedroom while you sleep, since a heated home can cause you to wake up with dry lips that will crack when you yawn. Youch!
To find out what other ways you can prevent dry, cracked lips read more