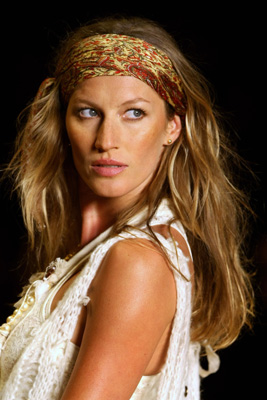 Can a $70 skin cream make us look like Gisele Bündchen? Probably not, but its eco-friendly bent could make you feel all warm and fuzzy inside. Today, the supermodel launches
Sejaa
, a 100-percent natural line by every stretch of the imagination, from the manufacturing process (windpower) down to the soy-based VOC-free inks used on the packaging.
Gisele, who was recently named the UN's Goodwill Ambassador for the Environment Program, decided upon the brand's name as a play on the word seja, meaning "to be" in Portuguese, her first language. The extra "a" was added at the end because "words have a vibration, and aaah! is an exhalation, what you feel when you let go," she told Vogue.
The three-product line, which is sold solely on the brand's website, consists of a Day Cream, Night Cream ($70), and Mud Mask ($56). It also features a Pure Skincare Kit ($120), which includes a two-ounce jar of each product, a spa towel, and a mud applicator. Find out what else the model had to say about her new endeavor when you read more.