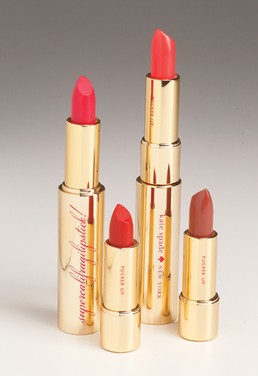 Kate Spade and Poppy King teamed up for new Supercalifragilipstick
($24), a capsule collection of vividly hued, shiny lipstick/lip gloss hybrids. "The formula holds various polymers that have a high reflective index and allow for maximum shine with hours of wear," King explains, adding "[we] wanted to do something hyper-maximum rather than minimal."
Lots of lipstick formulations made to resemble lip gloss have arrived in stores lately, but it's always worth checking out when Poppy King throws her hat in the ring. There aren't any plans to launch Kate Spade makeup, though; so far this is just a one-off collaboration. Supercalifragilipstick will be available in Fall 2011, and when it arrives on the Kate Spade website and in their boutiques, will you be interested in picking one up?