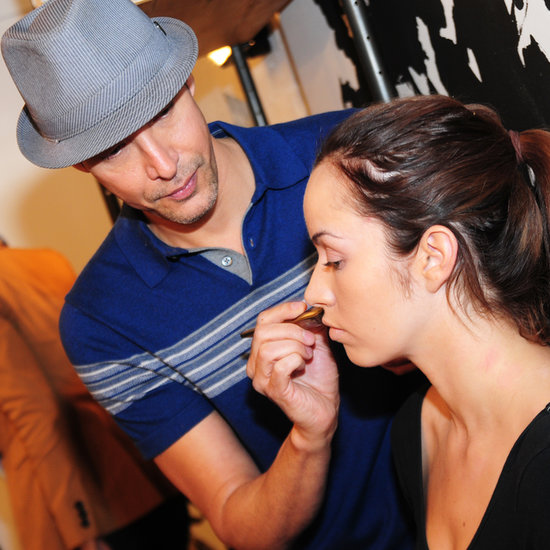 Celebrity makeup artist Troy Jensen (pictured above) has been making stars like Kim Kardashian, Rachel Bilson, and Nicole Richie ready for their close-ups, and now he's sharing his foundation tips with Make Up For Ever's Foundation Nation campaign. So stop getting frustrated with mismatched foundation, powder mishaps, and oil-slick situations. Jensen is here to help.
1. Determine your skin type. Knowing your skin type will help you find the right formula for your complexion, which will also aid in better wear throughout the day. Oily skin types should use a primer and stick to more matte formulas and oil-free options, while dry skin types should focus on properly prepping the face with skin care products, Jensen notes.
2. Find your right shade. Heading to the makeup counter where a trained artist can match you is your best bet. But as your complexion changes from season to season, Jensen recommends mixing in a color-correcting primer to brighten or darken your foundation. "If your foundation is too light because your skin has tanned, mix a caramel-toned primer underneath," he says. "If your skin has become lighter, use a brightening primer underneath."
3. Master the application. While most women use their fingers to apply their foundation, Jensen says only a brush will give you the most perfect application. And instead of the standard flat foundation brush, Jensen is partial to the Make Up For Ever's Medium Highlighter 152 Brush ($37), which has a plush surface that has a "nice buffing effect." While he likes to build coverage with a brush, he'll opt for a sponge like the Beautyblender ($20-$29) when full coverage is desired. And in case you already have a flat brush, don't forget to go back and use the tip to buff away any streaks.
Get more if Jensen's clever tricks after the jump.