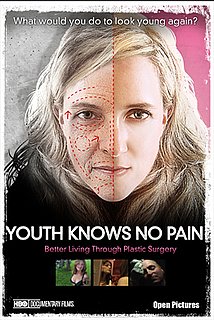 Tonight, do yourself a favor and watch Mitch McCabe's excellent documentary,
Youth Knows No Pain
. (It airs tonight at 9 p.m. on HBO, and it is great.) The film explores our societal obsession with looking forever young, but what makes it all the more interesting is McCabe's own backstory as the daughter of a plastic surgeon. Through interviews with cosmetic surgeons, Botox babes, and her own introspection, she's created a smart, fascinating, poignant, and funny film. Set your TiVo already, and read on as McCabe discusses her take on our age-phobic society in this interview.
It seems like 10 or 20 years ago women in their 20s weren't so concerned about aging. Now a lot are — we even see 26-year-old Julia Allison go for fillers in the film. Why do you think there's been that shift?
One thing Julia was talking about is that women's fertility decreases after 25, and just from a biological standpoint, there's an expiration date — biologically and therefore in terms of attractiveness. My Buddhist friend, we'd argue about the subject matter of the film and say attractiveness is only meant to attract a mate, your importance is supposed to come from the inside. So once your breeding days are over, of course your attractiveness is supposed to fade out. It wasn't supposed to be important in the first place. Not that Julia Allison is a Buddhist, but she's speaking the truth of what happens out there. I mean, do we see women in their 30s and 40s being cast in many different roles out there? No. If women try to date on the Internet and post their real age, can they get as many dates as a woman who's 28? No. If you really listen to a man who's maybe had a couple drinks, he might be more honest about his views on older women.


For the full interview, read more.