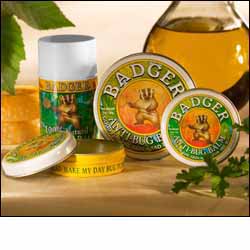 The first time I went to Belize, I returned with an impressive number of mosquito bites and ant stings — the latter of which took a good seven months to fully disappear. This time, I vowed, would be different! Because I am becoming a total hippie, I didn't want to use bug repellent with
DEET
. A friend who lived in Costa Rica recommended
Badger Anti-Bug Balm
($10), which promises to repel insects with oils of citronella, cedar, lemongrass, rosemary, and geranium.
I bought a stick, and much to my delight, the stuff worked — even during treks through the rainforest. During a 10-day trip, I had only four mosquito bites and no sand fly nibbles. While I wouldn't say the balm was akin to Chanel N°5, it smelled more pleasant than OFF or ever-cloying Skin So Soft. This little Badger was full of win.
I'd also bought Badger's SPF 30 for snorkeling adventures. Chemical sunblocks destroy the already-endangered coral reef, so I went with a natural sunblock that uses zinc oxide. Did it work as well as the bug repellent? To see the tell-all picture and find out, read more.