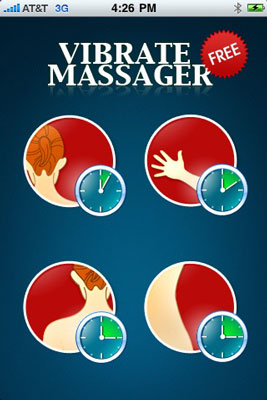 When the iPhone first came out,
a skit on Late Night With Conan O'Brien
joked that the miracle phone could do it all. But can the iPhone give a nice, stress-relieving neck, hand, or wrist massage?
OK, I know you all probably have your minds in the gutters already upon hearing of the Vibrate Massager app. And while yes, there are some apps out there specifically targeted for, ahem, other purposes, this particular one is touted as a "relaxing and portable vibrating device to let go of your knotted muscles in the office or after workout." Sounds good to me. But did it work? Find out when you read more.