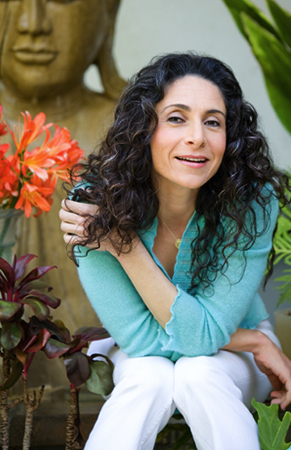 Mandy Ingber is one of the most popular yoga teachers in the country. And with a celebrity client roster that includes Jennifer Aniston, Helen Hunt, and Brooke Shields, her popularity isn't waning anytime soon. More magazine recently sat down with Mandy to discuss her modern approach to yoga, what it's like to work with Jen, and why hip-hop yoga isn't as horrible as you'd think. Here are the highlights:
On life before yoga: "I had been an actress, things shifted in my life, so at about 28, I became a spinning instructor. It quickly became obvious that I had something that people wanted. People said my spinning classes were like yoga classes on a bike. I would start off by setting an intention, as you do in yoga classes, bring people back to their breath, and try to connect people to the bigger picture."
On her own fitness regimen: "I do some version of cardio 30 to 45 minutes three to five days a week, plus 30 to 60 minutes of yoga four days a week. I take two spinning classes a week."
To see what Mandy says about working with celebrities and where the yoga movement is going, read more