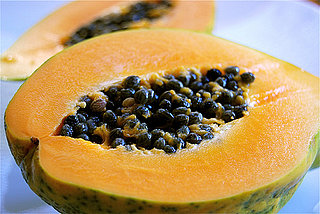 Have you ever thought, "My life would be so much better if only there were a facial for my crotch"? Me neither, but San Francisco's Stript Wax Bar is introducing the Vajacial. Suggested for women who get Brazilian waxes, the trademarked treatment aims to do for your ladybits what a facial does for your face. "We developed the Vajacial to really address and treat the key needs of anyone who gets waxed," Stript owner Katherine Goldman said in a press release. "Your 'little lady' will thank us!"
Meant to be performed a week after waxing, the 50-minute treatment ($60) involves four steps. First, skin is cleansed with an antibacterial body wash and witch hazel. Then, a papaya-based exfoliating gel goes on before the esthetician extracts ingrown hairs. After that, an anti-freckle, anti-acne, or calming mask is applied. It finishes off with an application of lightening cream. (Unless the esthetician plans to put a mask on a client's vaginal walls, shouldn't this treatment be called the Vulvacial?)
Oh, where to begin? Lots to say on this one, so read more.